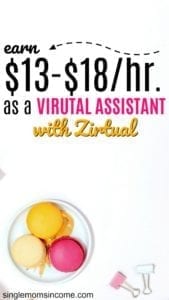 Have you thought about becoming a virtual assistant but don't know how to go about finding clients? If so, a good first step can be to work with a company that hires virtual assistants and finds clients for you.
One company that does this is Zirtual.
Zirtual provides clients with a dedicated virtual assistant. This means as a Zirtual assistant you always work with the same clients so you get to know them and understand their needs. Clients pay a monthly fee for the services they need and you are assigned a client or clients based on your skills and availability.
Zirtual Job Duties
A few of the many services you might provide include assisting with email responses, social media and marketing, scheduling and meeting planning, travel planning, research, processing invoices and payments, and project management.
Prerequisites for Working with Zirtual
There are some skills and requirements you must be able to meet in order to apply including, but not limited to:
Associates Degree or higher
1 year minimum of administrative experience
Experience with Google Calendar, Google Suite, and Microsoft Office
Experience and ability with task management and communication programs (Trello, Asana, HipChat, and Slack)
Reliable internet and phone connections
Ability to type at least 50 WPM with accuracy
Able to pass reference and background checks
Work availability Monday-Friday, 9 AM to 6 PM EST
As a virtual assistant you'll also need to be detail oriented and have good communication skills.
Some positions may have additional skills, equipment, and/or technical requirements so be sure to check each job listing before applying.
What You Can Earn Working with Zirtual
Zirtual hires Virtual Assistants as independent contractors, not employees so you will be paid as a 1099 contractor. That means you'll be responsible for paying your own taxes. Hourly rates vary based on the client work and how many hours the client needs, but it averages $13-$18 per hour.
Although you will be expected to be available for a Monday-Friday schedule, you can choose to work part-time or full-time. However, you will need to apply for a position that meets your desired schedule.
Zirtual also recognizes holidays and you are not expected to work on major U.S. holidays. If the holiday falls on a weekend, Zirtual will follow the U.S. federal day of observance.
Applying for a Position with Zirtual
If you think being a virtual assistant with Zirtual is a good fit for you, visit the job listings section to learn more about their expectations and apply online. (Click the "Virtual Assistant (Remote)" for the work at home position.)
Find More Virtual Assistant Work
Performing virtual assistant work has been one of my favorite jobs over the past several years. There's a lot of room for income growth and the variety of work keeps you from getting bored.
Here are some resources on finding more virtual assistant work:
How I Became a Virtual Assistant – This post describes my experience in becoming a virtual assistant. It also has links to a virtual assistant course in case you're interested in a step-by-step plan for starting your own virtual assistant business.
30+ Services You Can Offer as a Virtual Assistant – One of the great things about doing virtual assistant work is that you can tailor your services. If you want some ideas of services to offer this post has over 30!
7 Places that Hire Virtual Assistants – Still not ready to step out on your own? This post has a list of companies that hire virtual assistants.
P.S. I also recommend checking out the Work from Home Summit. This is, hands-down, the best work from home event I've come across. You'll get access to videos from real people who have built their own work from home careers in many different niches. And it's 100% free. You can access it here.