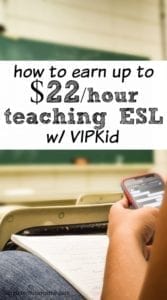 VIPKid is a great work-at-home opportunity for teachers or tutors; providing online education for children in China.
The company specializes in working with children between the ages of 4 and 12 and offers full immersion one-on-one English language instruction. Their curriculum is based on the U.S. Common Core State Standards.
What's even better is that you can skip the parts of teaching that you don't enjoy, like creating lesson plans and grading work. VIPKid provides all the lesson plans and communicates with parents, you just get to do what you love, teach.
The work is flexible, you can work from anywhere you'd like and set your own schedule to work as few or as many hours as you want. And your job duties are simple – teach English to Chinese students through immersion using VIPKid's lesson plans.
Working with VIPKid
The application process is strict, you will need at least a Bachelor's degree (any field) to qualify. If you don't meet this requirement, there's no need to even apply. (You can check the bottom of this post for other work from home positions.) If you do though, there is a five-step application process:
Submit your resume to be screened for basic requirements and experience.
Submit a demo – this can be done in two ways. Either through a 30-minute one-on-one interview to showcase your teaching skills or by recording a demo lesson on your own time to be viewed by a VIPKid recruiter.
Watch a series of videos to learn more about VIPKid's technology and curriculum.
Teach a mock class with one of VIPKid's teachers. This is a full-length class to see how you handle yourself.
Sign your contract and complete a background check. VIPKid requires a minimum 6-month contract which can be renewed.
Once you've completed all of these steps, you'll become a VIPKid teacher. You'll enter your available timeslots online so that parents and students can start booking you.
The technical requirements are few and pretty basic. You'll need a computer with Windows 7, 8, or 10, or MAC OS 10.8x and memory of at least 4 GB RAM. You'll also need a camera for video chats, a headset with a microphone and an Internet connection.
What Does VIPKid Pay?
Working as an independent contractor, your payment is calculated per class and is comprised of a minimum pay plus incentives.
Starting pay for a 30-minute class is $7-$9. If you show up on time and teach the lesson according to the schedule, you'll receive an extra $1. And if you complete all of your classes within a month you receive an extra $1 per class. For a 30-minute class you can expect to earn $7-$11 and for a one-hour class, $14-$22. Also, as an independent contractor, you are responsible for your own taxes.
Teachers are paid once a month through direct deposit between the 10th and 15th. You can be re-evaluated for a raise at the start of each new contract.
To get started, just visit the VIPKid website and sign-up. Once you do, you can start the application process by uploading your resume to your account.
Related Work from Home Jobs: