If you like variety in your day, but still want to work from home, virtual assistant work might be right up your alley.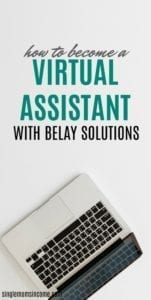 Belay Solutions is a company that hires virtual assistants, web specialists and bookkeepers for work from home positions. They've been named the "Number One in Best Culture for Small-Sized Companies" from Entrepreneur Magazine and they've been recognized by Inc. Magazine as one of the "Fastest Growing Companies in the US."
They have full-time and part-time hours available. Here's what you need to know about virtual assistant positions with Belay Solutions.
Job Duties Working with Belay Solutions
As a virtual assistant, your job duties and responsibilities can vary. You'll likely be doing many different tasks throughout the day. Some common duties may include:
Maintaining appointment calendar
Managing Email
Preparing presentations and spreadsheets
Social Media management
Creating structures and processes
Research
Data entry
Making travel arrangements
Event planning
Project Assistance
Requirements for Working with Belay Solutions
Belay Solutions is looking for people who are detail-oriented, organized, self-motivated, reliable, resourceful, professional, and tech savvy. You must also be able to multi-task several projects in any given day.
Belay Solutions states that it prefers those with bachelor's degrees. To qualify for this position you'll need to be able to work a minimum of 10 hours per week and be available Monday through Friday during business hours. You'll also need five years' experience in an admin role.
The following tech requirements must also be met:
Mac or PC computer with webcam – minimum 1.0ghz dual core processor, 8gb, most current version of MS Office installed (including Excel, Outlook, Word and PowerPoint)
Fast and reliable internet connection
Smartphone
Quiet, distraction-free work area
How Much Does Belay Solutions Pay?
The pay varies based on the position, experience, and hours worked. All jobs are hired as 1099 Contractors so you are responsible for your own taxes. All applicants are also subject to a background check.
You can choose to work anywhere from 10 to 40+ hours per week; all work is done Monday-Friday during normal work hours. Belay Solutions also offers resources, webinars, mentors, and coaching for ongoing training and job development.
How to Apply to Belay Solutions
The application process involves several steps. First, fill out the online application. Next, there is an assessment test to see if you're a good fit for the company. Once those are completed, there is an email and video conference call interview. From start to finish, the process takes about a week or two.
If this sounds like a job that interests you, visit Belay Solutions job page to begin the application process. Within a couple of weeks, you could be working a great new job right from the comfort of home!