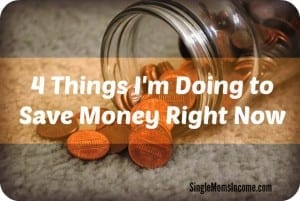 My income has slowly increased over the last three or four months. So, you'd think that I'd have saved those extra few hundred dollars, right? Wrong. I haven't actually put any money in my savings account for a while.
I feel like something has come up every single month. In February there was a death in the family so I ate out all month long. In April I threw an Easter party for the kids in my family. And last weekend we celebrated Ava's fourth birthday.
Plus, we've been eating out on a pretty consistent basis – which is in turn eating up all of my extra money!
In an effort to save more money (and possibly save for a house) I've got to get my bad habits back under control. Here are the 4 things I'm doing right now to save money.
# 1 – No More Eating Out
I'm going cold turkey. I'm not a foodie. I don't care about food – so why am I spending all of my money on takeout? For convenience.
It's no secret that I'm no Betty Croker. I don't enjoy cooking (I don't hate it I just don't enjoy it.) Plus I really hate cleaning up the mess that cooking creates. (With a 4 and 5 year old I have enough messes to clean up.)So I've been looking for solutions to my food problem.
Here's what I'm doing:
Cooking similar items in batches. For example, I just made a pudding pie and cheesecake for deserts for the next few days and a big batch of banana nut muffins for breakfasts over the next several days.
Using my crockpot like there's no tomorrow. I love crockpots. They make my life so much easier. And since I still have a freezer full of beef

there's no excuse for me not using one. I've been assembling freezer bags full of crockpot meals. For instance putting a roast, marinade, and vegetables in a freezer bag together and then just dumping it in the crockpot in the morning.

Buying big bags of chicken. Chicken is pretty easy to cook and can be used for so many different types of meals. (This is one of our favorite ways to prepare it.)

Plus three pound bags of chicken for around $8 is relatively cheap.

Sandwiches for Lunch – Not every meal needs to be three courses. Am I right? I stocked up on lunch meat and cheese. Now lunches are sandwiches and either sliced apples or bananas on the side.
Buying Two Liters of Pop – While this isn't directly related to eating out, it is a problem I have. If I don't drink something with caffeine in it in the morning I get a headache. I don't drink any coffee but I drink my fair share of Pepsi. The problem seems to be that when I buy cans I end up dumping out a lot of wasted pop. I converted to two liters about a month ago and it's definitely been saving me money and also limiting my Pepsi intake.
I'm also planning a trip to Sam's Club this weekend so that I can stock up on the stuff we use on a regular basis. No eating out this month – at all. This is my number one mission!!
# 2 – Going Back to the Library
Ever since I purchased my Kindle more than a year ago I've been spending far too much money on eBooks. When I see something that I want to read it's just so easy to hop over to Amazon, buy it, and dig in.
I haven't visited the library in almost two years.
The next time I get the urge to buy a book I'm going to visit the library's website and see if they have it for download. If they don't, I'm going to make myself wait at least 24 hours before making the purchase.
When I make myself wait to make purchases I usually talk myself out of it. No more eBooks.
# 3 – Paying Off My Only Loan this Month
When I bought the trailer in 2012 I took out a $10,000 loan to do so. I got the loan on a four year term and my payment was $226 a month.
About a month and a half ago my dad gave me $6,000 after receiving an inheritance. I applied that entire amount to the loan. Now I'm down to my last payment.
I just sent in the payment for this month. I need to send in around $200 more and this loan will be gone forever. And I'll have an extra $226 floating around in my budget.
Hallelujah!
# 4 – Selling All My Junk
While this last one isn't about cutting expenses it is about adding to my savings account. You see, I've been saving yard sale items for the past two years and my pile has become quite massive.
I've got bikes, toddler beds, home décor, toys, coffee makers, shoes, and a mountain of clothes the girls have outgrown to get rid of.
Instead of having a regular yard sale, which I hate doing, I'm going to list all of my items on the Facebook Yard Sale. If that doesn't work I may talk my mom into having a joint yard sale with me so that I have someone to talk to all weekend.
If I can sell all my junk I think I can make at least $300.
Your Turn
Those are my plans to get my savings rate back up there again. Give me some more ideas please…….
What are you doing right now to save money?