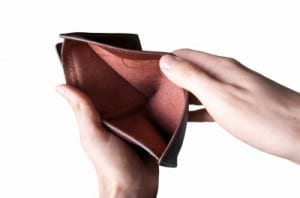 My interest in personal finance started at a fairly young age. After reading The Total Money Makeover at age twenty I was hooked. Although my love for smart financial moves has helped me avoid any major debt I am still far from perfect.
In fact, over the past year I've started to develop some pretty bad money habits. Here are three things I do that are in definite need of improvement.
# 1 – Bill Procrastination
It pains me to admit it but there have been several times, especially here recently, that I have waited until the last minute last second to pay my bills.
Over the course of the past year I've learned what being a single mother is like. And, unfortunately for me this means relying on a fairly small income. I've been hit with some rough months and it's made keeping up with bills a bit of a challenge.
To be completely honest that's not the entire reason my bills were paid last minute. Sometimes I had the money sitting in my bank account to cover the bill but waited until the last second to pay it anyway.
# 2 – Not Balancing My Checkbook
Maybe I don't want to know that I only have twenty bucks in my checking account or maybe I've just been plain ole lazy. But, balancing my checkbook sort of slipped to the back-burner over the past year.
To keep myself accountable I actually made a goal a few months ago to balance my checkbook after each transaction.
While I've pretty much sucked in this area over the past year I do have some good news. Now that I am making more money I actually like to balance my checkbook!
If work continues the way it has been I can clean up this money sin rather quickly.
# 3 – Wasting Money on Books
Originally I thought buying a Kindle would save me a ton of money over the long run. The problem is that I am such a book lover that if I hear of someone praising a certain title I have to read it. The convenience of Kindle books has cursed me.
I used to be a regular of the library now I am a regular of the Kindle store. I need to set a limit on the books I purchase to one every month or two. I could then take advantage of free Kindle books and hit up the library for my other book needs.
Cleaning Up My Act
The first step to fixing your problems is admitting them, right?
I believe the first two money mistakes on the list stem from not having the amount of money I feel I need in the bank. It makes me not even want to look at my bills or checkbook. Thankfully, freelancing is really starting to improve my money situation.
I am now ready to clean up my act and keep my finances in better (and smarter) working order.
What are your money sins? Is there anything you do that could use some improvement?