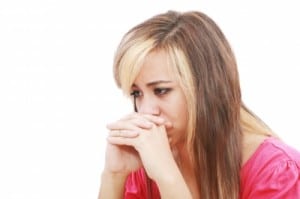 At the end of this month it will officially be one year since I moved out of my house and decided to get divorced. I've had my ups and downs since then and this is usually a subject I try not to think about too much. But, I want to be completely honest with all of you, especially if divorce is something that you are considering.
If there is one word I could use to sum up, how I really feel, it's this: depressed.
What You Don't Know About Being a Single Mom
You know the feeling you get when your kid does something super cute? Normally, you and your partner lock eyes and give each other a smile. A meaningful memory has been created. Somebody else is there with you to enjoy and treasure the moment. You want to be able to tell your kids when they're older – "you used to do this all the time when you were a kid, it was so cute!"
Now imagine that you're by yourself every time your kid does something cute. You have nobody with you to cherish that moment.
And even if you do find someone else, chances are they're not going to treasure that cute moment quite like the father of your children would have.
All of the same stuff happens whether you are a single parent or married.  But when you're single you handle it all on your own. The temper tantrums, the attitudes, and the cute stuff, it all still happens. You just have no back up. It's up to you to make sure your kids are being raised the right way.
Perhaps, this is something you have thought about. If so, trust me, you don't really grasp the idea of how hard this can be until you're a couple months into it.
Forget the Life You Know
When I got divorced I knew that I was going to have to separate the girls time between me and their father. They have a great father and I couldn't keep them from him. That would be selfish and I honestly believe their dad needs to be just as active in their life as I am. (Which he is.)
The first couple of months the separation from them didn't bother me so much. Life was hectic and stressful and I was just trying to figure out what I should do. Then I started to get settled and the weekends without my girls felt like an eternity, and they still do.
On the weekends I don't have my kids, it takes everything in me not to just sit down and cry. And sometimes that's what I do. I question my decisions, my abilities as a parent, and the life that I am giving them on my own.
I try my hardest to keep it together and there is only a couple of people who I talk to about what I am really feeling. On the outside I seem like I have it together. Really, I have been heavily considering going to the doctor and getting something for depression.
It's been a year and I have yet to regain any sense of comfort. I don't know how long this will take, but for me, I know it will be awhile.
Providing Financially
Hindsight is 20/20 and I was a dumb ass to give up my second job. It was flexible and provided me the money I needed to get by. I absolutely hated not having any free time and working so much, but now I am constantly looking for ways to fill the time when I don't have the girls.
Being on your own with a low income is hard. That is why we are living in a trailer. That is why I spend $250/month on groceries. That is why I keep looking for ways to bring in extra money that I enjoy.
I am still confident that if I keep pushing toward my goals I will get to where I want to be. But, it takes time and doesn't make providing financially any easier right now.
I understand that everyone is in different situations. Some women are single moms because they got out of abusive relationships and life is much, much better for them now. Being a single mom isn't all bad, but it is so much harder emotionally than I could have EVER anticipated.
This is just my story and my feelings. If you are a single mom, is life better for you now or is it a lot harder? I would love to know how long it took you to feel whole again.