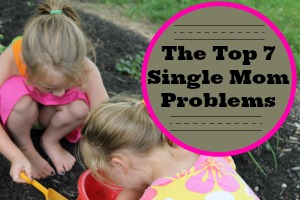 If you're going through a divorce or nasty break up with the father of your kids, things are about to get rough.
Getting divorced is a hard thing to do. But sometimes it's necessary. After all, you're meant to have a good life and be happy. At times parting ways is the only solution – especially if you've been in an abusive relationship.
I'm now in a place where I'm the happiest I've ever been. I have a good relationship with my ex-husband and my kids are extremely happy, but it hasn't always been this way.
I 100% believe that if I had not gotten a divorce I'd still be deeply depressed which would've had a huge negative impact on my kids.
However, the transition from having a partner to being completely on your own should not be underestimated. It's hard. The good news is that with time, it gets easier.
Here are the top seven problems you'll face as a new single mother. Beware.
# 1) Dealing with Crazy Emotions
The emotions are the worst. Self-doubt. Loneliness. Depression.
At first everything is crazy. You're not sure whether you made the right decision or not. "Is this the best thing for my kids?" That's what ran in my head over and over.
When you get in a depressed state it's easy for you to doubt your decisions. But you obviously made these decisions for a reason. Don't think of only the good times you had with your ex – think of the overall picture of your relationship.
(You can read about the depression I went through during my first year as a single mom.)
It's crucial to have a good support team for the first several months.
# 2) A Lack of Support
If you don't have a support team things are going to be a lot harder.
I was very grateful that I had my Dad, his girlfriend, and my little brother. To be honest I'm especially grateful I had my youngest brother to help.
My brother and I hung out every weekend that the girls went to their Dads and I couldn't have been more grateful. He also helped me with the girls and accompanied us to the grocery store or wherever else we had to go.
I don't know if I'd been able to stay strong without him. (I need to tell him this, huh?)
If you don't have that support team behind you things are going to get hard. I know many people are against divorce and may not understand and support your decision.
If this is the case you need to seek support elsewhere. Join a single mom forum, find a friend online, email me – just find someone you can talk to.
# 3) Not Making Ends Meet
Running low in the finance department is a common theme for single mothers. Heck, when I got divorced I was working two day jobs and trying to build an online business.
I was tired. I was cranky. But at the time there was no other way.
I knew I needed to build an emergency fund and find a place for my kids and me to stay.
I worked two jobs while saving as much of my extra money as possible and then bought a trailer.
You need to be proactive in 1) making extra money and 2) keeping your expenses as low as possible. Save every single penny you can.
And if you really can't make ends meet go apply for government assistance. There's no shame in it and don't let anyone else make you feel otherwise. Do what you gotta do. Period.
# 4) Not Receiving Child Support
While I have no personal experience with this (I didn't ask for child support because ex and I made close to the same amount of money) I know many woman who are supposed to receive child support but don't.
My advice is to plan your budget without even thinking about getting child support. You shouldn't be depending on an income source that may or may not come. You'll only set yourself up for failure.
**I'm not saying don't apply for child support. I'm just implying that you shouldn't depend on it if you know that the father of your kids is unreliable.
# 5) Dealing with a Deadbeat Dad
If you're not receiving the child support you're supposed to get my guess is you're dealing with a dead beat dad. I sympathize for you because I know too many of this type.
If the father of your kids is not stepping up to the plate, stop depending on him. Of course, your kids need to spend time with their Dad and you should let them do so. But if you can't count on his word then lower your expectations. Don't let him be the source of your stress. (Or try not to anyways.)
# 6) Being Overworked
If you read the not making ends meet section then it's clear that you, as a single mom, are going to have to work a hell of a lot harder than those with supportive spouses.
It's a big shock at first. But if you put in the work you can get around this by creating your own opportunities.
#7) Missing Your Kids Like Crazy
The hardest part for me in all of this is just how much I miss my kids when they're at their Dads. I constantly wonder what they're doing, if they're behaving, and hoping they aren't put in any bad situations.
But it's out of my control.
When I first got divorced I kept my kids the majority of the time. Then my ex-husband and I worked out a shared parenting agreement, which I believe is truly the best thing for my children. The hard part, is sometimes I don't know what to do without them.
While this has gotten easier over the past couple of years I don't think the worry will ever completely go away.
Final Thoughts
Those are the seven biggest single mom problems. Some of them you'll have the ability to change while others are completely out of your control.
Do the best you can and focus on what's in your power. It takes some time to get used to but after a while you'll figure everything out.
What was your biggest challenge as a new single mom?