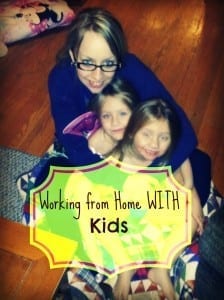 Over the past few weeks several freelancers have posted what their normal work from home day looks like. (Read Cat's from Budget Blonde, Michelle's from Making Sense of Cents, and watch the video from Crystal at Budgeting in the Fun Stuff.)
There are some (kid free) days when my days look similar to theirs. Recently, however, I've been working with my kids home quite a bit. On the really busy days I normally take my kids to the babysitter but due to nonstop snow and ice storms this year I've been reluctant to get out on the roads.
And because of that my day goes something like this……..
6:00 – 8:00 am Wake Up & Fix Breakfast
Somewhere between 6 and 7 am (and sometimes much earlier) my youngest daughter, Ava, wakes up. I am still cuddled up under the covers sleeping in my bed. "Mommy get me some chocolate [milk]" she hollers. Hopeful that she'll go back to sleep I holler back "It's still sleep time, Ava."
It doesn't work. Never does 😉
The yelling wakes up Kailyn and before I know it I have two little girls on both sides of my bed. (See below a picture Ava took of me trying to sleep.)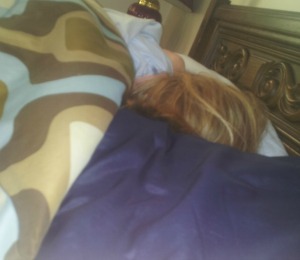 I get my butt out of bed, fill their cups with chocolate milk, and make them breakfast. Once they're sitting at the table eating I hop in the shower.
8:00 – 9:00 am Try to Work
After eating Kailyn grabs my phone to play a game and Ava grabs the Kindle to watch Bubble Guppies or Dora. They usually entertain themselves on these devices for about an hour.
This is the only (mostly) interrupted time during the day where I can sneak in a little work. I write a blog post for a client, check and respond to emails.
If I get a full blog post complete I'm feeling pretty darn good!
9:00 am – 1pm – Clean, Read, Eat, Play
At around 9:00 am the girls lose interest in the electronic devices. Kailyn is ready to know what we're going to do today.
I tell her we'll clean up the house, read a few books, and practice writing. Ava is more of a minute by minute girl – she could care less what the plans are. Nevertheless she becomes attached to my hip.
We clean up the messes created from the previous evening. Pick up toys, wipe down tables, and if I'm feeling really energetic – sweep and mop the floors. Kailyn likes for rooms (especially hers) to be clean so she pitches in.
My little three year old mess maker dumps out all of the blocks that I just picked up and starts building jumbo Lego castles on the floor. I'm happy that she's temporarily entertained so I take a quick minute to check my email.
We make lunch. The girls play for a little bit. (We've had a couple cardboard boxes lately that keep them rather entertained. Who needs toys?!)
1 – 3pm – Movie Time
By now the girls are getting pretty grumpy. I haven't been able to get either of them to take naps since they turned two!
Instead of naps we cuddle on the couch and watch a movie. We usually end up watching the same movie a hundred times before moving to the next. The current movie of choice is Peter Pan.
3 – 7pm – Dinner & Whatever Else
We don't have a set routine during this time of the day anymore. Sometimes my mom will stop over and visit. Sometimes we'll sit around and read books. Sometimes (if the weather permits) I'll go to my aunts and we'll work out or eat dinner.
Kailyn is determined to turn our rat terrier pup into some sort of circus-trick dog so each day she places him on furniture and encourages him to jump off. I get nervous that he's going to get badly hurt and make her quit.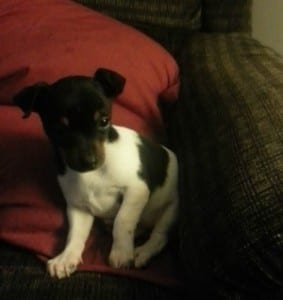 The two girls argue for an hour over whose turn it is to hold the dog (Martin.) I get frustrated and put him in his crate.
If we're not going in anywhere we'll make dinner and sit at the table and eat at round 5:30-6 . Here lately most of my meals have come from the crockpot.
At some point during this time I try to check and declutter my email inbox once again.
7:30 -8 pm Bath and Bed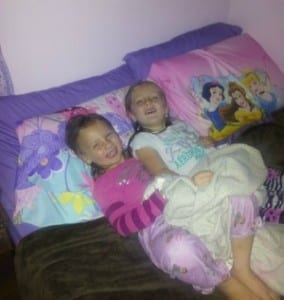 At 7:30 on the dot every evening I give the girls a bath. They usually play in the bath tub for around a half an hour and then go lay in bed and watch a movie. Ava usually falls asleep around 8:30 but Kailyn tries to stay up as late as possible. She usually falls asleep by 10:00.
8:00pm – 1am – Work
Now I sit down at my computer and get started on my work. I've had a lot of extra writing work to do lately so I make a list of all my posts that are due.
I normally have around 4-5 blog posts to write, emails to answer, and a few other virtual assisting type tasks to do during this time so I get busy coming up with ideas and writing posts.
My intentions were to write a post for my blog too, but by the time I finish with the others I'm a bit drained.
It always takes me a long time to fall asleep at night so I take a Midnight PM and go hop in bed!
So that's a day of working from home with kids! Do your days look anything like mine?