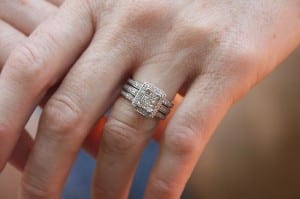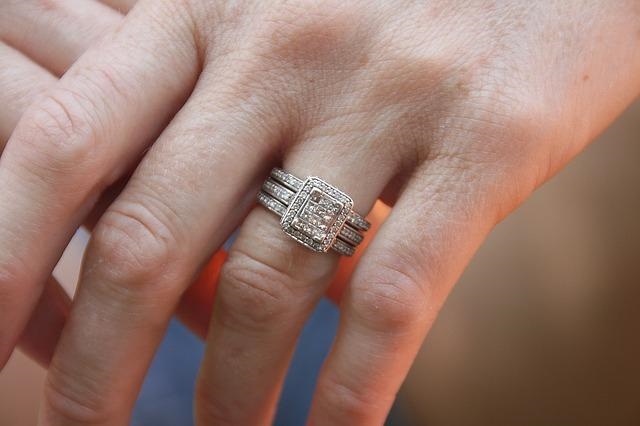 This post is brought to you in part by Farewell Diamond. All opinions are my own.
What did you do with your engagement ring after getting divorced? It's kind of a touchy question for several different reasons.
And this is what I figure the answer is based off of.
A)     You Got Divorced on Bad Terms – You sell your ring, or throw it in the trash, or hide it from yourself so that you're never reminded of the bad times.
B)      You Got Divorced on Neutral Terms – This is more like me. The ex-husband and I have no problem communicating with one another and are on good terms. You keep the ring for your daughter when she gets older. If you don't have a daughter you sell the ring.
C)      You Didn't Want to Get Divorced – You keep the ring and occasionally look at it and remember the good times.
Does that sound right?
I know everyone is different so let me explain what happened to my old engagement ring……..
What Happened to My Engagement Ring?
First off, I didn't have one engagement ring. I actually had a total of 3. Yep, 3.
You see, when my ex-husband decided he wanted to get married he wanted to do it then. There was no patience.
He saw a ring for around $150 on a TV auction channel (yeah, I used to watch those. I think it was Jewelry with Caroline 😉 ) and he bought it. I was perfectly fine with that ring and wore it for probably about a year.
My then husband had become addicted to the jewelry auction channels (no joke) and every time he would have a bit of extra money he would buy a "step-up" ring.
In the end I ended up wearing my second ring as a wedding ring (it had smaller princess cut diamonds on the band) and my third ring as my engagement ring (marque cut.)
The first ring was sold to one of his friends for cheap. And come to find out the friend later pawned it. (I was mad. I would've just kept it if I knew he was going to pawn it.)
Back to the story.
As you can imagine the third ring was the best in terms of value.
Well the day I moved out of his house and in with my Dad I took two things with me: a toddler bed and a TV. (Well probably some diapers and clothes for the girls, too. I can't remember, it was all a blur.)
I left everything else – my rings and all my jewelry.
Months later when I got the trailer ready to be lived in I came back to get my stuff. To my surprise some of my jewelry was already gone – a diamond necklace with matching diamond earrings, an aquamarine ring, and a couple other of my smaller diamond band rings.
He sold them.
I didn't push the subject. I was all about peace. For one, the only jewelry I wear is either a small pair of silver or gold hoop earrings every day. That's it. So I wasn't really missing out.
Plus I didn't want to be reminded of him every day.
What was left though were my two engagement rings which I was told would be sold as well.
This I didn't agree with.
You see, since I had two rings I wanted to save them and give them to my girls when they were older. I thought they'd really like having my old rings that their Daddy had bought me. But he wanted the money.
We argued back and forth about who got to keep the rings. We finally decided he could have the nicer, more expensive one and I would take the other.
He sold the ring he kept to a jewelry store for a couple hundred dollars. I still have mine.
But you see, since I only have one ring it's kind of hard to decide which one of my daughters will get it. I can't give it to just one of them. After all, we're all about fairness in this house. (Just ask my girls. They make a point to tell me every time I'm not being fair!)
So now I'm to the point where I've been thinking I'll sell it. Although the problem is I don't think I can get very much money for it.
What's a girl to do?!
Say Farewell to the Diamond
Then I was emailed a couple weeks ago by a company who just started buying diamonds called Farewell Diamond.
Let me tell you a little bit about them….
They want their business to be built off of trust. They'll give you honest advice about the value of your diamond even if they don't buy it.
Farewell Diamond is brought to you by Long's Jewelers, a Massachusetts-owned and operated jeweler that got its start in 1878!
Long's Jewelers has been buying diamonds, gold, and estate jewelry for over a century.
Here's how it works:
Receive a Fair Offer For Your Diamond
Send Your Item Via Free and Insured Packaging
Your Diamond is Then Inspected and Payment is Sent
Farewell Diamond buys any rings or diamonds where the main stone is ½ carat or larger.
Why Farewell Diamond Can Pay You More

Obviously, this isn't the first place you've seen that offers to buy your diamonds. But they are different.
Let me tell you why.
Most cash for diamond buyers are only out to flip your diamond. They buy your diamond for cheap and then sell it cheap to a diamond dealer. They are only worried about accumulating several transactions. That's how they make their money.
But at Farewell Diamond you're not dealing with a middleman. Instead they want to buy your diamond so that they can build up an inventory for their five stores.
This means you get a better offer.
Final Thoughts
I am in no way, shape, or form suggesting that just because you're divorced you should sell your engagement ring. After all, my plan was to pass my rings onto my girls.
I understand that some of you want to hold onto your rings for sentimental value. But I also recognize that many of you are ready to get the most money possible for a ring you no longer want in your life.
If you're looking for a place to sell your diamond you can get a free quote from Farewell Diamond by filling out their online form.
What did you do with your wedding and engagement rings after getting divorced?