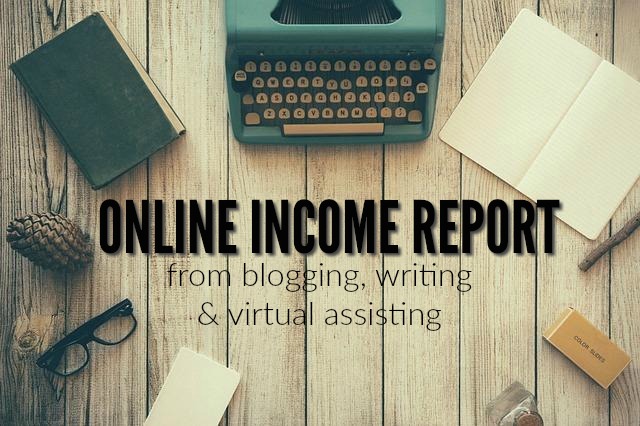 If you're new here I've posted income reports ever since I started this blog, four years ago. I initially had goals of making a few hundred dollars per month and then slowly growing that amount. Luckily, that's what I've been able to do.
In 2012 I decided that earning money online was going to be the only way I could create the life I wanted living in a small town with no good job options. I dove in head first and started trying things out. I've failed at sooo many different things and have had great successes with others.
As of now I earn an income through being a freelance writer, virtual assistant, and blogger. (And yes, I know how crazy that sounds to most people!)
October Income
October was better than September but only slightly and I'm pretty sure I've got it figured out.
You see, I changed my blog theme a couple months ago thinking things would be more streamlined. While I knew ad revenue would go down since I took one of the main ones away I figured the less busy site would help other areas grow. Only, it didn't!
When I switched themes all of my income sources went down. I played with things a little bit but it just wasn't working out. It was an interesting experiment even if it did cost me a couple thousand dollars. #Ooops. And it's one of those things that you just can't predict.
What I thought would work didn't and so I switched her back.
Okay, I'll stop yammering about themes and get on to the income report. In October I earned a total of $7,171.39

(Screenshot from GoDaddy Bookkeeping)
It broke down like this:
Freelance Work (Writing and Virtual Assistant Biz) $1,500
Ads on This Blog $1,667.10 (ouch!)
Affiliate Commissions $4,004.29
Sponsored Posts – $0
It appears that my affiliate income went up but that's a bit misleading. Around $1,400 of that was from an affiliate promotion in February that I just got paid for. So it's not something that will be recurring on a monthly basis.
P.S. If you're confused about what any of these income report categories mean check out this post.
Tips for Creating Multiple Streams of Income
Over the past few months I've been very grateful for having multiple streams of income. When one goes down I still have the others to count on and it'd be very unlikely that I'd lose everything all at once. This works especially well if you learn to live on less than you make and also have your savings to fall back on!
If you're currently working on creating multiple streams of income for your blog or online business I do have a tip that will help: get really good at one thing before you move to the next.
When I started earning money online I focused on freelance writing. I got good at finding clients and eventually had more writing jobs than I wanted. I still needed to earn more money so instead of adding to the writing list I began offering virtual assistant services.
In blogging I first set up sidebar ads and then learned how to get traffic to my site so that they would make money. Even when I had a much lower traffic I earned fairly well with my ads. After I figured that out I started focusing on affiliates (which I'm still working on.)
If you're like me you can easily be distracted by a gazillion different things. Force yourself to get one thing just how you want it and THEN move on to the next. It will take a lot of the pain out of creating more than one income stream.
Recommended Blogging Tools
If you're wondering what tools I recommend for blogging, here's a list:
Domains and Web Hosting –Bluehost. If you're interested in blogging but haven't yet started you can get hosting from Bluehost for as little as $2.95 per month PLUS a free domain name when you go through this link which is just for my readers. If you need help getting set up you can find a step by step tutorial here.
Social Media Scheduling – For Pinterest I use Tailwind. I started using this about a year ago with great results. Tailwind is affordable and super easy to use.  You can get a free month of Tailwind with this link.
I'm also subscribed to Hootsuite as I used to use this for scheduling my virtual assistant clients Twitter accounts. I still use it for mine. Although, truth be told I don't really love it and could probably do without.
For Facebook I just use the built in Facebook scheduler.
Bookkeeping – GoDaddy Bookkeeping. I absolutely love this bookkeeping software. You can read my full review here.
Photos – I find a good majority of my photos on Pexels. This site is free with copyright free images. If I can't find one there I'll buy an image off of 123rf.com or look for one on Haute Chocolate which I also have a subscription to.
I use PicMonkey to edit all of my photos.
Best Blogging Course – Elite Blog Academy. If you're looking for the best blogging course I highly recommend Elite Blog Academy. It is expensive but it was what helped me go from a couple thousand dollars per month to at least $5k per month. (Join the waiting list or read my review here.)
Tips for Getting Started
If you're in the idea generation phase here are some common ways to earn money online as well as how to get started.
I hope you had a fantastic October!