For the first few years of making money as a self-employed person I tracked everything in a spreadsheet. (You can see it here.) It worked well for a while but could be a pain when I was trying to tally up specific subsets of information across the span of the year.
Also, sometimes I would forget to add all of my expenses and then come tax time I'd spend a large chunk of time double checking all of my numbers.
At the beginning of the year I decided to give GoDaddy Outright online bookkeeping
 a try after seeing many other online entrepreneurs and freelancers using it. It was fairly inexpensive so I figured I didn't have much to lose and was hoping it'd be easier than my spreadsheet tracking.
GoDaddy Bookkeeping Review
Once I got the software I connected all of my business bank and PayPal accounts. It automatically imported all of my transactions and with just a little bit of tweaking I could see my month to progress laid out beautifully.
Here's a view from the homepage when I log in: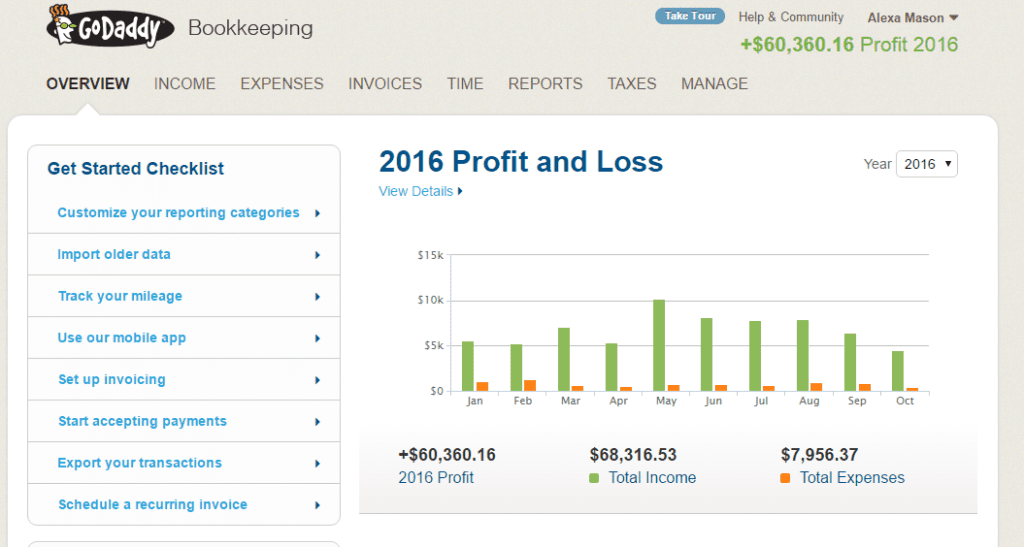 Every time I receive a payment it automatically shows up under my income section. Every time an expense is debited from my bank account it shows up under my expense section.  Then at the end of the month I'll give everything a look over and record what's necessary. (This may be a payment I received via check, etc.)
The other section that I LOVE is the tax section. I've always worried if my tax estimates were correct so I definitely appreciate that this software calculates everything for me.
GoDaddy Bookkeeping will calculate your self-employment tax and also provides a Schedule C you can print off at the end of the year to file your taxes or to give to a CPA.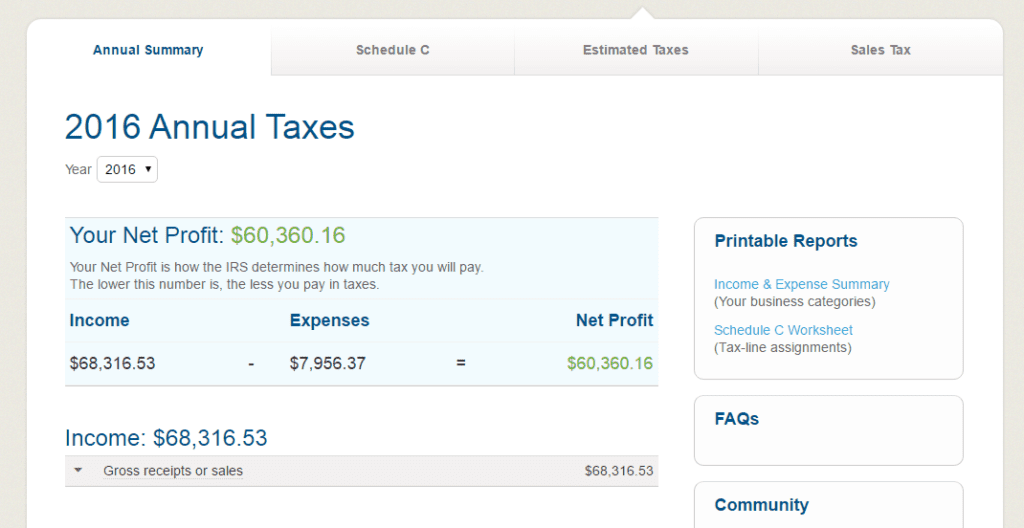 Other Useful Features
My business is pretty simple. I normally receive payments from the same companies each and every month and have many of the same expenses. But if you have more sales going on you can use the reports feature to break down income by types of customers, by state, types of income and more. You can also see expense reports.
There's a spot to calculate sales tax too. (I can't tell you how useful it is because I haven't used it.)
You can also track hours worked if you're freelancing and billing by the hour and send invoices straight from GoDaddy.
It's Super Simple
I used to be a bookkeeper and used QuickBooks to manage everything. However, when it came to my personal income I felt that QuickBooks was way more than I needed. This why I love GoDaddy Outright Bookkeeping. It's simple.
I wouldn't recommend this software to a large business or someone looking for a ton of frills. For someone like me interested in accurately tracking income, expenses, taxes and seeing reports regularly this software is pretty great.
If you're interested in trying it you can get GoDaddy Outright online bookkeeping for just $9.99 / mo. or if you prefer spreadsheets you can see the one I used for many years here.
How do you track your self-employment income and expenses?