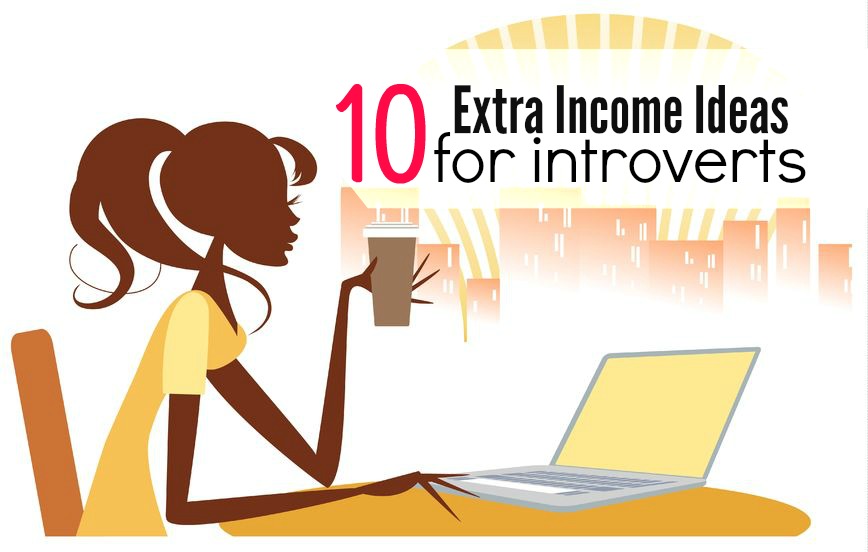 Do you know what I love most about the internet? It has opened up a whole slew of different types of income-earning options. Seriously, the possibilities are endless!
I'm no longer stuck in an insurance office answering phone calls and dealing with unhappy people. Now, I get to earn my income in a way that just feels right for my personality.
If you're looking to earn extra money in way that meshes with your introverted personality here are ten income ideas for introverts.
(If you're an extrovert go check out Wisebread's article 10 Side jobs for Extroverts.)
# 1. Freelance Writer
If you like to stay in your own little bubble, enjoy writing and are highly motivated, becoming a freelance writer can be a fantastic fit.
The money you can earn freelance writing can range from $2-$300+ per post. What you earn will depend upon your niche, current skill level, and ultimately, how well you're able to market yourself and find high paying clients.
Here's my step by step guide to finding freelance blogging jobs even if you're starting from ground zero.
# 2 – Search Engine Evaluator
Search engine evaluators are hired as independent contractors to evaluate the quality of search engine results for companies like Google.
These jobs are generally very flexible with varying amount of hours and assignments available. This side job should be able to be done in conjunction with a normal 9-5.
Pay for this job is normally in the $10-$15/hour range.
You can check the job opening for search engine evaluation with LeapForce here.
# 3 – Virtual Assistant
When I first started earning money online the bulk of my income came from freelance writing. It wasn't long before I started to become burnt-out on writing so I decided to offer virtual assistant services.
I've had the pleasure of helping run several different blogs as a virtual assistant and found this job to be very complimentary to freelance writing.
If you're interested in this type of work here are more than 30 different services you can offer as a VA. I also recommend that you take Gina Horkey's free email course on becoming a virtual assistant. It will teach you the basics and help you decide whether this is a good career path for you. You can sign up here.
# 4 – Website Tester
Website testing is another flexible independent contractor job that may work well with a 9-5. As a website tester you view websites and test them for usability. You're normally required to take a 5-10 minute video of you using a particular website and talking about what you do and don't like about it.
As a website tester you can expect to get paid around $10 per test which take 20-30 minutes to complete.
Here are seven different companies that will pay you to test websites.
# 5 – Social Media Manager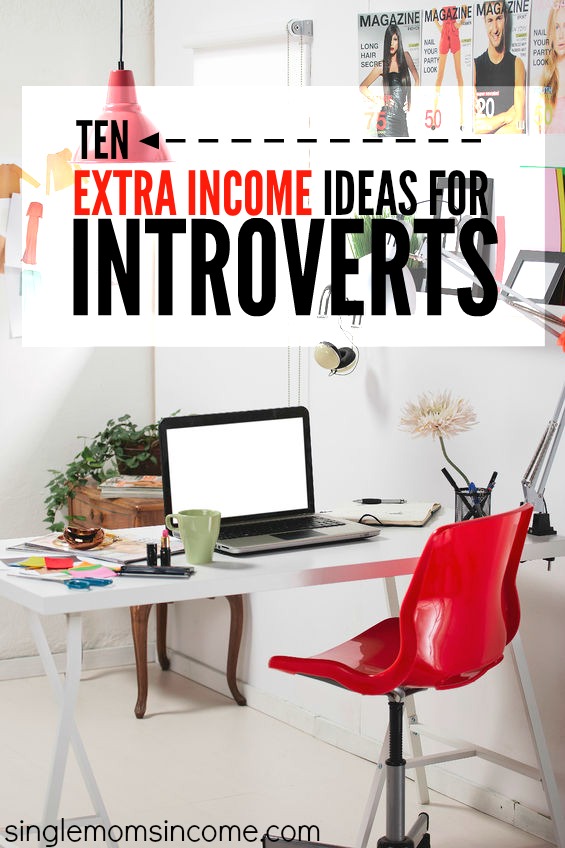 If you're looking for an extra income idea that you can grow into a full time income source this job might be a great solution.
Social media managers can manage all of a company's social media networks or can become specialists in just one. (They can also become hyper-specialized like a Facebook Ads expert, for example.)
If you can produce results as a social media manager you can charge $50+ per hour. (If you're first starting out you may have to charge much less.)
Here's an in-depth article on how to become a social media manager.
# 6 – Blogging
Out of all of the extra income ideas I've explored blogging is hands down my favorite. With a blog your income potential is unlimited and blogging is just fun.
The downside is that it can take hours upon hours of unpaid work to make a blog profitable. In fact, it took me around two years to pull in a consistent income with this blog.
If you're looking to build something you can call your own and don't mind working hard now to reap the benefits later blogging can be an excellent fit.
Here's how to start a blog + five proven ways to earn money blogging.
Also, I have a special discount link for my readers to start a blog with Bluehost for as little as $2.95 per month PLUS get a free domain name.
# 7 – Self-Publisher
I want to say upfront that this idea could possibly be the hardest of all to pull off.
While I've heard awesome success stories of people earning $50,000 per month self-publishing e-books on Amazon, I've also heard of people spending countless hours writing books to earn only pennies.
As a self-publisher you write books and can then sell them on places like Amazon's Kindle Store or even your own website.
One book that I've seen highly recommended (I've read this book myself I've just never implemented the advice) is Write. Publish. Repeat.
# 8 – Buying & Selling
If you've got an eye for a bargain and none of the other ideas appeal to you, maybe becoming an online reseller would fit.
While eBay used to be the place to earn a lot of money selling items it looks like Amazon is now taking over.
Here's a beginners guide to selling on Amazon FBA from The Selling Family.
If you'd rather find used items and flip them here's a fascinating post from Punch Debt in the Face.
# 9 – Etsy Seller
Crafty I am not, but Etsy I absolutely LOVE. I have to practice some serious self-control when it comes to not spending my life-savings on handmade items from Etsy.
If you're good at….
Sewing
Knitting
Painting
Graphic Design
Making lotions
Making chapsticks
Making cool looking Mason Jars
Or anything else that is homemade AND are willing to learn a few business and marketing skills you might want to consider selling on Etsy.
Here's the Etsy selling category from Brilliant Business Moms which will offer you a slew of information on becoming a successful Etsy seller. Also, here's how you can sell on Etsy without being crafty.
# 10 – Work at Home Bookkeeper
If you're good with numbers and are a highly organized person starting your own work from home bookkeeping business is an excellent option. With this type of business you can take on one or two clients per month for just a little extra income or scale it into a very lucrative career.
My friend, Ben Robinson who is a CPA, has a course on becoming a work from home bookkeeper and you can get the first three video lessons for FREE here.
# 11 – Data Entry Operator
Let's round out the list with a job I'm asked about the most! A data entry operator can work in a myriad of different spaces but the job almost always entails the same thing: entering data into some sort of specialized system.
You shouldn't expect to earn more than $7-$15 per hour with data entry. You can find a list of companies that hire for work from home typing jobs here.
____
Photo Credit: pinkpig10 / 123RF Stock Photo