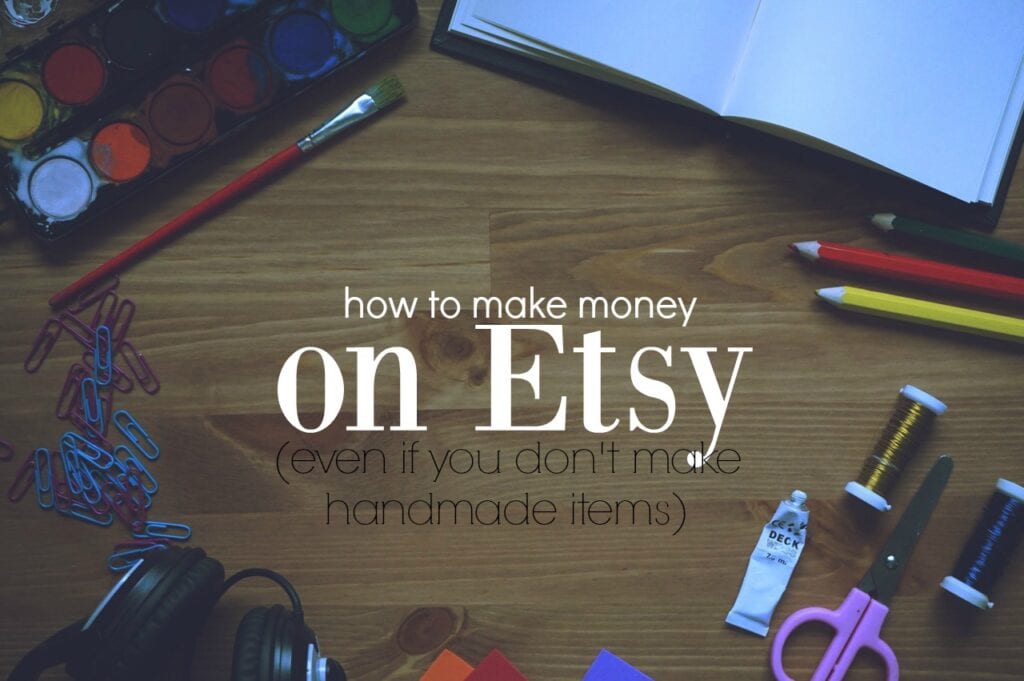 Etsy is a great online marketplace that offers a wide variety of unique, custom, vintage, and handmade products for customers to buy. Looking for creative collectibles, home goods, jewelry and accessories, or clothing? You'll find all that and more on Etsy.
Setting up an Etsy shop is a great way to sell your products for a profit and earn money on the side or even full time if your shop becomes popular.
Etsy charges a $0.20 listing fee along with a 3.5% transaction fee on whatever you sell (does not include shipping). After that, whatever you earn is yours.
The main misconceptions with selling products on Etsy is that you need to be an artist or really good producing handmade creations.
Contrary to popular belief, you don't need to know how to weave baskets, knit scarves, make jewelry or pottery in order to have a successful Etsy shop.
Here are a few ways you can earn money on Etsy without making handmade products.
Buy Inventory at Thrift Stores
That's right. Instead of making items by hand, you can purchase them at thrift stores then flip them online for a greater profit. You can find just about anything at a thrift store, so your real challenge will be finding something that's low cost and sells well on Etsy.
While the t-shirts and coffee mugs categories are probably super over saturated, you can narrow down your niche by selling coffee mug holders, cufflinks, candleholders, pot holders, tea kettles, craft supplies like needle kits and latch hook kits, and more.
When you're shopping for inventory, pull up the Etsy mobile app and start searching for items you are considering grabbing to see what the competition is like. It will be hard to sell items that have hundreds of thousands of listings already on Etsy. How will people be able to find your listing and weed through all the competition?
I'll talk about marketing your shop in just a bit, but keep in mind that odd low-competition items are always going to be a good start. Etsy already gets a ton of visitors each day and odds are, someone will be searching for the unique, less popular items you find and decide to list in your store.
Create Digital Products
Your other option to consider when you can't create a handmade product or craft for Etsy is to sell a digital product instead. This is where you can get pretty creative. There are tons of digital products sold on Etsy including everything from printable downloads, drawings, clip art, photography, fonts, website design templates and more.
The great thing about selling digital product on Etsy is that you don't have to ship them out and you can sell your product at a higher volume since you don't have to worry about running out of inventory.
In terms of what to create and sell, use your skills and free tools online like Canva and PicMonkey to help you design something that people will want to buy.
You can create digital daily affirmation cards, your own inspiring quote images, a daily planner download, party invitations, printable images and pictures to be used as home decor etc.
Setting Up Your Listing
Once you have a clear idea of what you'd like to sell, you'll need to start setting up your listings and marketing your shop so you can get sales and earn money.
Take multiple high-quality photos of each product you list from different angles. You may even want to show images of the items in use.
On Etsy, you can also use tags to describe your item. You can use up to 13 tags so be sure to use as many as possible and consider what your ideal buyer would be searching for as you list out your tags.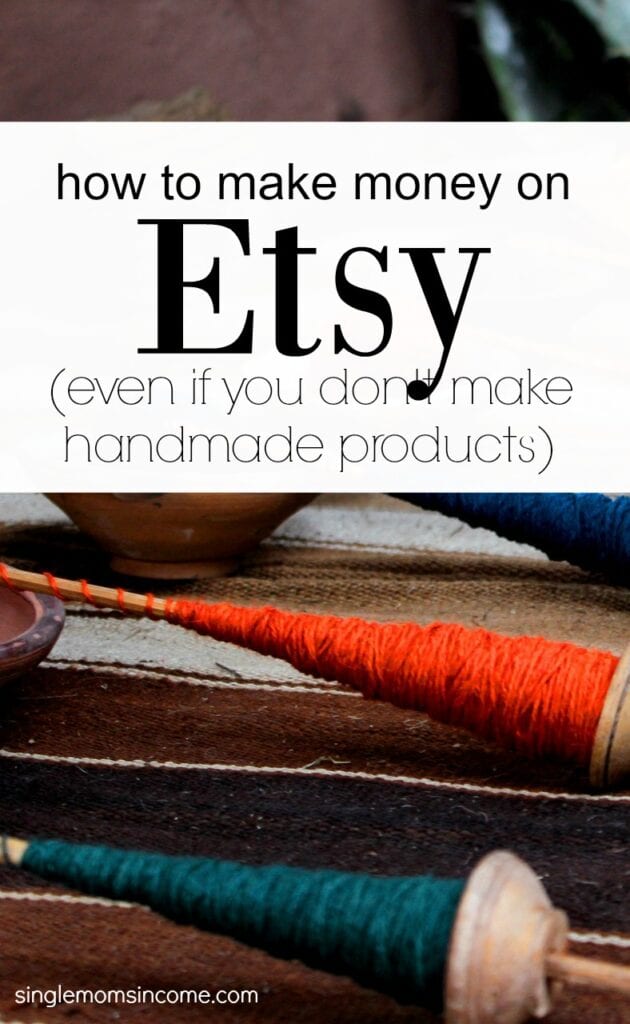 Also, don't forget to categorize your item as well. Etsy provides a space for you to do this. If it's a vintage item, be sure to include that.
Basically, when listing your items, try to as detailed as you can and fill out as many fields as possible. You want to attract buyers who are searching for exactly what you have to sell. If you are too broad or vague, your listing could get lost in the hundreds or thousands of items that others are selling on the platform.
Optimizing your listing for specific keywords and categories will certainly help you market your shop. Also, when you first list your item, it will have a better chance of showing up higher in the search results.
Market Your Shop
To continually market your shop and products, you can create social media pages for your Etsy shop. Your best bet is to set up a Pinterest and/or Instagram account to market your items to potential buyers. You can also share your listings on all your social media platforms.
You can also provide certain sales and discounts in your Etsy shop to give buyers an incentive to purchase. If the holidays are coming up, you can offer a flash sale or even put some items on 'clearance' at the end of the season.
You can dabble into online ads for your shop if you want, but paying for advertising could eat into your earnings.
Think of your Etsy shop as a brand and feel free to let your personality shine through especially on social media. Be sure to practice good customer service and respond to potential buyer's questions and feedback in a timely and respectful manner.
Selling products on Etsy is a great way to earn money online even if you're not very crafty. Whatever you decide to sell, make sure it's a quality product and you are marketing your shop effectively to ensure success.
Have you ever used Etsy before? What do you think about selling items online to make extra money?