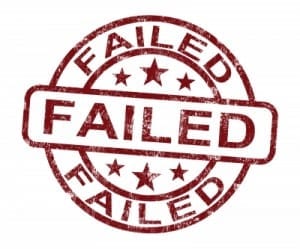 By now you have heard me talk quite a bit about being okay with rejection. That's because I have to be, when you are blogging or trying to start a freelance business you really don't have much of a choice.
While I have learned to somewhat gracefully handle rejection now, this was not always the case.
My Old Fear of Failure
When I first started blogging over two and half a years ago I couldn't handle rejection – at all. The first guest post I ever submitted was rejected and it made me feel like a failure.  After my week long pity party I picked myself up and brushed myself off.
I went on to submit more guest posts to big blogs and received even more rejections, which made me feel like a repeated failure. In fact, I quit blogging a couple of different times because I just couldn't handle any type of criticism.
Luckily my feelings of failure and, more importantly, my fear of failure no longer hold me back. In fact, I now expect to be rejected at least a couple times a week and when it happens it's no more than a shrug of the shoulders.
Overcoming the Fear of Failure = Amazing Things
The fear of failure is the number one detriment to people trying to do something new and remarkable. It's scary to embark upon a new adventure and step into the land of the unknown. It's even scarier to think about failing at something really important to you.
If you have a dream, a crazy idea, or a gut feeling, go after it.If the fear of failure is holding you back I have a challenge for you.
Whatever business or idea you are trying to pursue, pitch your idea to at least ten people. Find ten people/businesses that could be interested in what you have to offer and send them an email introducing yourself and your proposition.
I can almost guarantee you that over half the people you email will not respond to you. Two might email you back and tell you no thanks and if you are lucky you might get 1-2 yeses.
Go ahead and do it. Trust me the more you put yourself in positions like this the quicker your fear of failure will go away. 
The first time it's a bit gut wrenching. The second time it stings a little. The third time the shock and disappointment starts to fade and eventually you learn that rejection and failure only makes you stronger.
My Week of Rejection
This week was a bit rougher than most for me.
Rejection # 1
Last week I told you how I had two writing gigs in the works. Well, after some back and forth emails for a big website that I really wanted to write for I got a no. It turns out my ideas weren't exactly what they were looking for.
I was disappointed that I didn't get the job. I emailed the site owner back thanking him for his time and then went on the hunt for more potential clients.
Rejection # 2
Somebody purchased my ebook and then had their money refunded.
Rejection # 3
Apparently last week's post on Finding More Time to Do What You Love must have offended several people. I had 20+ people unsubscribe from the blog shortly after that post was published.
Normally I don't pay much attention if someone unsubscribes from RSS. I often unsubscribe from email updates if I feel like I have too much going on in my inbox. But to have 20+ people unsubscribe at one time means that I probably did something wrong.
So, if I did offend you I am sincerely sorry. Everybody enjoys different things and I am far from perfect. I was just trying to make the point that you can make time to do what you want or love to do by cutting back on activities that take up too much of your time. Maybe deleting your Facebook account or cancelling your cable TV isn't the right choice for you. That's fine, we're all different.
Conclusion
Over the past week I didn't get a job I really wanted, someone didn't like my eBook, and I unintentionally offended people I respect. I wish things would have went differently – but they didn't  and I can't dwell on that.
If you are embarking upon something new and exciting in your life you can't dwell on failure either. Let rejections make you stronger and wiser. Don't let the fear of failure hold you back. You were born to be amazing!
You only have on life, make it count!