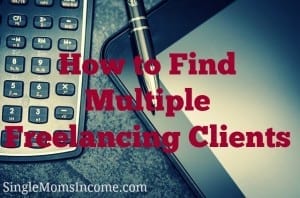 The following is a guest post from Martin of Studenomics, where he's all about helping you reach financial freedom before you hit 30 so that your life doesn't suck.
The one thing that has allowed me to travel whenever I feel like it, save up more money, and create a flexible lifestyle has been freelancing. I'm not saying that freelancing will solve all of your problems, but imagine what you could do with the extra money or the freedom?
We could all use an extra $100 or $500 per month. This could help you plan a trip, pay off your debt, or just have more savings.
There's just one problem. How do you get you started? I'm sure that you read the income updates from Alexa (they're awesome!) and get excited. The only issue is that you might not know what to do next. Your motivation fades and you just wish that you could get into freelancing.
How do you find multiple freelancing clients?
You find one client.
Okay, I'm sorry! I realize how obnoxious that sounds. Allow me to explain myself please…
How do you land that first client?
This is the trickiest part of all. Getting started is always very intimidating. You don't know if you should start a blog, go on Twitter, or read another eBook.
Here's the thing: you need to do whatever it takes to land that first client. This varies on what field you want to get into. Some fields are all about networking, while others are about the final product and nothing else.
What are my best tips for landing that first client?
Facebook ads/a page. Everyone is on Facebook! It's actually annoying. My brother and a few friends use Facebook to promote their service. My brother cuts hair. So he posts pictures of haircuts to a page and word has spread over time. Facebook isn't just for creeping your ex-girlfriend.
Kijiji. My friend posts his guitar-teaching ads on here and he usually finds clients. All you have to do is copy the best ads on there.
Job boards. The Internet is filled with job boards. What are you waiting for?
I know that these aren't exactly groundbreaking tips, but sometimes you have to cover the basics and be reminded of them as well.
The point is that you need to hustle to land that first client. From there you can work on building your freelancing portfolio.
What if you can't find a freelancing client?
This is the worst part. You feel like nobody cares about you and you want to give up. Well, I don't want you to give up or we're going to have problems.
So what's one to do?
You have to do work for free and use this as your portfolio/testimonials.
I didn't realize how powerful this was until it worked on me. A young lady contacted me about writing. I said no. She offered to work for free on the basis that I would consider hiring her in the future and that she could use me as a referral. Guess what? I hired her and I was used a testimonial.
Free doesn't sound sexy, but you have to prove yourself somewhere. I've recently started pro wrestling and I have been told not to expect payment until many shows in. Four shows in and not a dollar made yet. That's not going to stop me.
What happens when you land your first client (paid or unpaid)?
This is where you have concrete evidence that you're on to something. Someone actually wants your help or your service. This is where you start building momentum. This is where things start looking up.
One client will always lead to others. So if you want multiple freelancing clients, all you need to do is land your first client and then over-deliver. You need to hustle. You need to ensure that you do the best job possible so that this person recommends you. Or else, why bother?
If you want to read more, you need to check out my book on Amazon on how you can start freelancing.
Good luck and I'm here to help you get started!