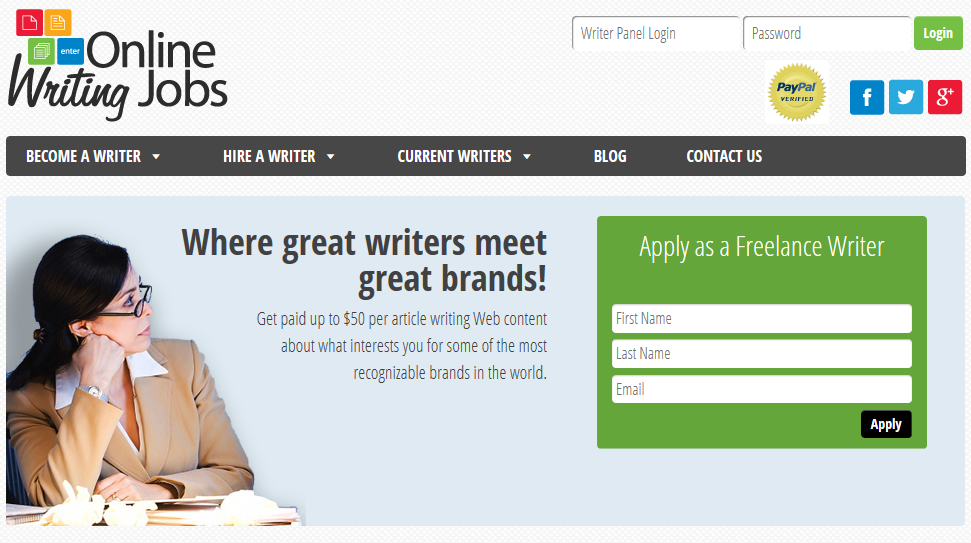 There has never been a better time to be a writer. Companies everywhere are looking for quality writers to write blog and website content.
While you can make the most money by finding your own clients it can sometimes be helpful, especially in the beginning, to have agency type work to fall back on.
What is OnlineWritingJobs.com?
OnlineWritingJobs.com is a site that connects writers with businesses who need blog posts and articles written for them.
They look for writers with experience in a variety of fields including:
Automotive
Education
Medical
Science
Technology
Travel
And More
How to Apply to OnlineWritingJobs.com
In order to apply for a position, you will need to complete their online application form and attach a custom writing sample using the instructions provided. The instructions for a writing sample will include a website that you should customize your work for.
Once you complete the application and the writing sample, you'll also need to complete a W9 tax form and submit a copy of a valid U.S. ID before you can start accepting jobs.
Working with Online Writing Jobs
Once accepted as a writer you'll be given access to jobs. You can choose to accept the jobs you want, pass over the ones you don't. You can work as many or as few hours as you'd like, there's no minimum.
Simply search the job listings to find something that interests you. Be sure to check the pay rate and deadline before accepting any job. All work is due by 3 PM EST on the deadline date provided. If you miss the deadline, the work will be assigned to someone else and you will not be paid for any work that you completed on the project. Extensions are sometimes available for extenuating circumstances as long as 24 hours' notice is given.
What Does Online Writing Jobs Pay?
The pay varies based on the type of content, your level of expertise, the deadline, and the length of the content. Most projects pay anywhere from $15 to $50 depending on these factors. The pay rate for each job is listed so you will know the payment to expect before accepting a job.
Your writing sample will only be paid for if you are accepted, in which case you'll be paid $10 for it. If you are not accepted, you are welcome to reapply six months from the date your application was declined.
Online Writing Jobs prefers to pay via PayPal but they will also mail a check. You must have a minimum of $15 in invoices before you can submit for payment. Invoices must be submitted by 3 PM EST on Thursday of each week in order to get paid the following day. If payment by check is preferred, checks are mailed every Monday for the previous week's invoices.
If you'd like to get started writing for Online Writing Jobs, visit their application page and click "apply to be a writer," you will be able to fill out your application and receive your sample assignment here.
Other Ways to Make Money as a Writer
If you're looking for other ways to make money as a writer I have a step-by-step guide of how to get started with zero experience. (These were the exact steps I took when I started out!)
If you have a little experience you may want to check out The Writer's Market which is a book of publications that pay writers. It includes pay amount, editors name and contact info and more.