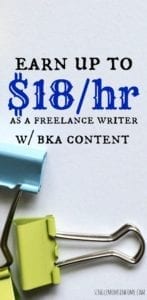 If enjoy writing and are looking to make some extra money there are a ton of opportunities as a freelance writer.
I always recommend that freelance writers find their own clients. This almost always means higher pay and a better schedule. However, I know that some new writers aren't ready to venture out on their own and would rather find a company to work with.
If this sounds like you, you may be interested in checking out BKA content.
Working with BKA Content
BKA offers a variety of content writing jobs from blog posts to website content to meta descriptions and SEO building. You can choose the jobs you want, decline the ones you don't. And best of all, you can work as much or as little as you like. They only ask that you write a minimum of 2,000 words per week.
Here's a little bit about the various jobs they offer:
SEO Content Writer – writing articles, blog posts, photo descriptions, and classified ads
Premium Content Writer – writing more in-depth blog posts, social media posts, and meta descriptions
Web Content Writer – writing job descriptions, industry-related blog posts, website content, press releases, and video scripts
Product Description Writer – writing product and category descriptions
Requirements for Working with BKA Content
There are some personal and technical requirements you'll need to meet in order to qualify to work as a content writer:
You must be a U.S. Citizen
Use Microsoft Word to produce and submit your content
Have a reliable internet connection
Have a Gmail email account
Able to commit to a minimum of 2,000 words per week
Have a PayPal account to receive payment
Must write at a college level with a firm grasp of English grammar, punctuation, and spelling
Must be able to meet deadlines
Must be self-motivated, dependable, and honest
How Much Does BKA Content Pay?
Most writers start at $8-$14 per hour, depending on their experience, while they learn the processes and gain more experience. After training, you can earn $12-$18 per hour depending on your skill set and typing speed, averaging 1.3 to 5 cents per word.
There is no cap on how many projects you can accept and how much you can earn; it's completely up to you. Pay is made every two weeks through PayPal.
How to Apply
If you're ready to get started, head on over to BKA Content's application page and start the application grammar test, it takes about 20 minutes. If you pass with at least an 80% score, you can complete the application process which includes writing two 350-word samples based on the provided instructions. Once you're selected, you can get started accepting jobs right away.
More Freelance Writing Resources:
How to Build a Freelance Blogging Career from Scratch – If you have zero experience and don't know where to begin this article will walk you through everything step by step.
The Best Freelance Job Boards – Job boards can be a great tool in helping you find jobs. This post covers some of the most popular job boards.
How to Set Freelance Rates – Perhaps the most confusing of all – setting your own rates! This post will cover some key things to consider when setting rates.