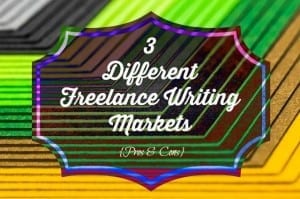 When it comes to freelance writing the type of work you do is virtually limitless. And, because of this it can be hard to choose.
Just to give you an idea here are some of the choices you have:
Blogs

Business Websites

Magazines, Trade Journals

Copywriting (brochures, email newsletters, website copy, other marketing materials)
And in each of these categories the topic you write about is limitless as well.
Let's look at the pros and cons of a few different types of writing.
Writing for Blogs
Writing for blogs is my main source of freelance writing income. For me, blog writing is fairly simple. I've been blogging for a while so the format and style comes naturally.
Advantages of writing for blogs
Usually ongoing work

Fairly easy to find jobs

Normally get a byline

Exposure
Another big advantage I've seen is how quickly bloggers pay.
For instance, when I write for a business website it usually takes at least thirty days to receive payment. When I write for a blogger I get paid literally within hours after submitting an invoice. I have never once been stiffed on a payment and sometimes I'm in utter shock at just how quickly I receive payment.
Disadvantages of writing for blogs
Lower pay

Coming up with multiple ideas on a weekly basis (this can be a challenge after a while)
Obviously the lower pay is the biggest disadvantage. When you write for a business website you'll be dealing with a company who has a marketing budget and can therefore pay you better rates. When you write for an independently owned blog you're not going to be paid the same.
In fact, I get paid about double when I write for a business website verses an independently owned blog.
Writing for Business Websites
Businesses need writers. The more a website is updated with the right content the better it does in the search engines and therefore the more customers the business can draw in.
Some businesses just post articles on their websites while others add a blog. I've worked with both.
Writing articles for a business website was actually one of my first freelance jobs. I wrote a batch of twenty insurance related articles and submitted them as a one time gig.
Advantages of Writing for Business Websites:
Higher pay than blogs

Clear direction – content schedules, topic ideas, etc.
Disadvantages of Writing for Business Websites
Usually at least thirty days to receive payments

Less consistent work – sometimes just a batch of work
Another disadvantage to some of the business websites I've wrote for (definitely not all) is less of a relationship.
 For example, with the independently owned blogs I write for I can bounce ideas off of most of the owners and put a face to their name. With some of the business websites it's hard to develop a personal connection, which makes you feel less comfortable pitching ideas.
Writing for Magazines
Magazine writing is something I've had on my to-do list for a while but haven't had much success with yet. I've taken the time to narrow down publications and have even submitted a couple queries. And since having articles or essays published in a magazine can be far more lucrative than other types of writing, I still have this marked as a goal.
Advantages to Writing for Magazines
Higher Pay

Exposure

Editorial direction
Disadvantages to Writing for Magazines
Harder to break into

(Usually) Not consistent work
As far as magazine writing goes I think there can be far more advantages than disadvantages. If you're able to get published in a well-known magazine or two you can use those articles as clips to line up future jobs.
Writing for popular magazines can definitely increase your authority.
Other Factors to Consider
When you go to choose which type of job you'd like to go after there's one key ingredient that will help you narrow it down: your topic.
Generally speaking, freelance writers want to write because it's their passion. What makes you passionate? What could your write about and research on for days?
Start with what you know and what you love. Realize that you can change your mind later. You aren't bound to the initial topics you've chosen.
Take Action
Choose one or two topics you want to write about. Your topics should be something you have insider knowledge on – like info you know from a former job or a life experience. (For me this was insurance and divorce.) Or choose something you're highly interested in and have studied about.
Then narrow down what type of writing you want to do. Remember you can always change this later. The point is just to land your first freelance writing job. Once you get a couple gigs under your belt you'll have broken a mental barrier and finding jobs you want will become much easier.
Anyone can become a writer. If it's something you want to do then do it!!
 What type of writing are you interested in pursuing?