When I was working the day job and trying to juggle freelancing there came a certain point where I knew I'd have to develop a system to keep track of everything. Freelance work started picking up and keeping track of deadlines and payments started to become a bit tricky.
In the video below I share with you how I schedule my freelance work and keep track of freelance client payments. Be easy on me this is my first ever video 🙂
How I Use My Planner to Schedule Freelance Work
I'm a bit of a control freak. I like everything to be relatively organized. When it came to freelance work it wasn't just my preferences that caused me to develop a system there was a definite need.
If you're just starting your freelance career of any sort I highly recommend that you put a system in place now. When clients start to multiply and your heads spinning in a dozen different directions keeping deadlines and tracking payments starts to become difficult.
Here is how I use my planner to schedule my freelance work.
At the beginning of each month I start out by listing my regular, reoccurring work in my planner. I write down the clients name on the due date of the work and the amount I am getting paid underneath the client name.
I add all work I get to my planner as the month progresses.
This is what my planner would look like at the beginning of the month: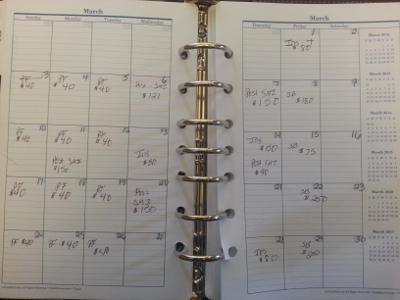 ** This is just a mock list. I normally write the clients name above the payment amount but seeing as I can't disclose who pays me how much I just used generic codes. 
That's how my planner would look as I begin the month.
As I get work done and turned in I then cross the clients name out. I leave the payment amount alone until I get paid.
Once I receive payment I immediately go back to my planner and write paid next to the amount. Then at the end of the month I go through and bill all of my clients on monthly bill and I circle everything that is unpaid.
This way when I move to the next month I can clearly see who still owes me money.
Here's how my planner would look like at the end of the month: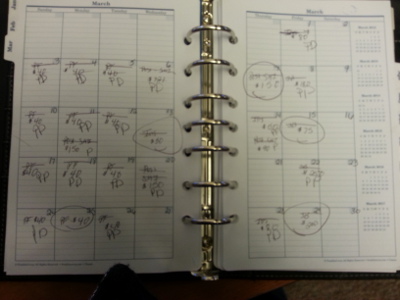 Creating Daily To-Do Lists
To make sure I complete all the work I need to do on a daily basis I use a second planner. Or, sometimes I just use a good ole piece of paper and pen (or both).
I refer to my master planner with the work for the month and then transfer it over to my smaller planner. I create daily to do lists and also list my income goal for the week at the top and then the actual amount of money I earned. It looks something like this: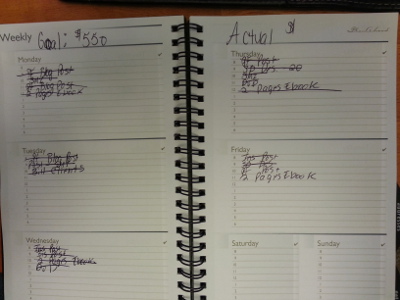 As you can see this is just a regular to do list. I write down what has to be done and cross it off as I go. I know that as long as everything gets crossed off my list I'm in good shape!
So in a nutshell that is how I am able to keep track of everything.
How do you keep track of things you've got to do? Prefer computer programs or paper, planners, and pens?
Thanks to the following carnivals for including my submissions this week Carnival of MoneyPros hosted by Money Pros, Yakezie Carnival hosted by Your Money Mentor, Finance Carnival For Young Adults hosted by Degrees and Debt,  Lifestyle Carnival hosted by Cough Up The Dough, Carnival of Financial Independence hosted by Mom And Dad Money,
Carnival of Financial Camaraderie hosted by One Cent At A Time, Carnival of Money hosted by Root of Good, Carnival of Financial Planning hosted by