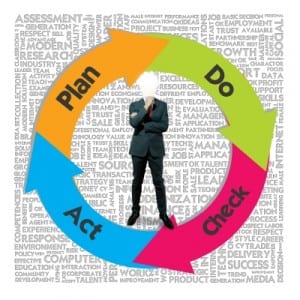 Last week we covered how to identify the target market for your freelance business. If you thought things through then you should have an idea of who your ideal customers are. Since you know who these people are, it's time to think about ways to reach them and turn them into customers.
There are essentially three types of freelance businesses. There is the type of business that is operated solely online, the type operated solely offline, and then a mixture of the two.
Although the same marketing concepts will universally apply to all three businesses, the specific steps will be different. Since the marketing concepts will be different for each of three, I think it's important to focus on one type at a time. So, today we will look at how to market your online freelance business.
Make Your Home on the Web
If you are doing all of your marketing online it is important to have one place to send potential customers. This means you need a blog or website to send your prospects.
If you are a freelance writer then a blog can suffice since it will show samples of you work and your abilities to draw in an audience. However, it may also be a good idea to have a writer website that will showcase your writing ability, writing rates, and forms of contact all in one easy to read place.
Likewise, if you have an editing or consulting business you need to have a website that showcases your services, testimonials from past customers, and your rates.
You can buy a domain name and hosting from www.GoDaddy.com  for $30-$75 a year depending on which options you choose and if you can find any coupon codes. I would strongly suggest searching for coupon codes before you buy hosting. (There are other hosing companies you can use, but I personally use Go Daddy for everything. I think it's very simple to set up a website and I have never had a problem with them.)
If you are on a tight budget you can also set up a free site at worpress.com or blogger. However, I do think it's worth it to buy the $10 domain name from www.GoDaddy.com so that your website doesn't have a .blogspot.com or .wordpress.com address. A simple .com web address appears much more professional.
(You can also check out 50+ Resources for Earning Money Online for more writer website options and suggestions.)
You can use a free, simple theme for your blog or website. Clients don't like to look at clutter, so keep it clean.
Here are a few essential pages to put on your blog or website:
Optional Pages
Rates (If you have a per article or per word rate)

Testimonials
Now that you have a website to direct prospects to, it's time to hunt down your potential clients!
How to Find Your Clients
Since you have already narrowed down your niche you will have a good idea of where to look. Let's take my freelance writing approach for example. Personal lines insurance is where I get most of my jobs. There are not enough of these jobs on job boards to keep me busy so I have to go look.
I think about who would need my services. The first thing that comes to mind is independent insurance agents who already have a blog on their website, but it hasn't been updated for ages. They obviously need help keeping their blog up.
I simply do a Google search for "independent insurance agents in specific location" I then look for websites that have blogs on them. If the blogs haven't been updated for a while I send a letter of introduction to the agency explaining who I am and what I can do for them.
Do I get jobs from all the sites I query? Absolutely not. I usually get 1 response from every 10-15 queries I send. Finding clients is an ongoing effort. Unless you are famous or a really popular blogger then it's going to take you some time and work to get your clients.
Other examples:
You want to edit Young Adult Novels. Google young adult novels writers or New YA writers. You could even narrow this down my specific location. Once you have found who you are looking for leave meaningful comments on the author's website and send them an email introducing yourself and what you do.

You want to offer blog consulting. Start hanging out in the blog niche that you have narrowed down. Find new or existing bloggers who could use your service. Send them an email letting them know what you can do for them.
Other Ways to Market Your Business
Be active in forums for your niche

Leave comments on blogs in your niche

Write guest posts for other sites to get the word out about what you do

Be helpful without being asked
As long as you have narrowed down your specific market you will be able to find your clients. It's not easy, in fact you will probably be told no far more than you are told yes. But, as long as you are consistent with your marketing methods you will start to develop a client base.
Make sure to knock it out of the ball park for your first few clients. You never know, they may be able to refer you to enough people to keep you busy for a while.
Have you ever thought of starting a freelance business?