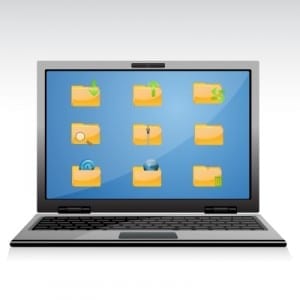 I hope you all had an amazing Christmas! I kept the girls home all week last week and it was so nice. I'm sad the holiday week is over but I've got some major catching up to do.
You know when you don't check your email for a few days and then you start to dread it because you just know you're going to have like 100 messages in your inbox? That's how I was feeling yesterday. I've been "unplugged" for the majority of the week and now I have to play catch up. The good news is that despite my not checking my email, nobody died. Who'd have thought?
To continue on with my resolutions for 2014 I desperately need to get digitally organized and put more automated systems in place.
Putting Systems in Place
There are times when I feel so overwhelmed that I'm not getting what I should be getting done or are just waiting too long to work. For example, I've waited last minute – literally, last minute – to get the majority of my writing assignments done this week. I was having a good time with the girls, plus you can't really write with two little kids who need your constant attention, so I put things off and put things off. Then I'd be down to the last wire to get things done.
I want to have everything in place so that if I want or need to take a few days I off I already have my work done.
The systems I want to put in place are:
Having all writing assignments done one week before they're due. This way I'm always one week ahead and have posts ready to go. I should be able to accomplish this in a couple days. If I can make myself sit down and just write this shouldn't be too hard to do. I just need to double up on posts one week then I can go back to my normal schedule.
Automating social media. I recently signed up for a free 30 day trial of HootSuite Pro. This lets you send posts via Twitter, Facebook, or Google+ from an unlimited number of RSS feeds. This way I won't have to feel bad for forgetting to tweet one of my friends posts. Just set it and forget it. Love it! (Plus it's one less thing to remember to do.)
Scheduling Posts in Advance for Other Blogs. On my other blogs I have started scheduling at least one weekly blog post ahead of time. So far, I've got Defeat Our Debt with one post a week scheduled until the end of February. I want to get this up to two and have it scheduled for six months. (I have a system for this too and it doesn't take me that long.)
For smaller blogs I'm working on I just want to have fifty posts total. I'm working on one blog at a time though so that I can focus.
As I progress I want to continue to put systems in place that simplify all the tasks I do on a regular basis.
Getting Digitally Organized
I'm super organized when it comes to paper and pen. I'm old-school – I'm not fond of putting all of my documents on my computer even though I might need to.
When I originally began getting writing jobs I created a Microsoft Word folder for each client to keep all the posts I had wrote. I've become sloppy though and I want to get my posts back in their proper order. Plus I have a bunch of half written posts that would be easy to finish up.
I also need to create spreadsheets for a few blog related things.
I've got everything that I need to do written on a piece of paper and I vow to get started today! Hopefully by the time the New Year rolls around I'll be halfway digitally organized.
Today is a writing day for me. Hopefully I can make a dent in my first system. Let's kill procrastination in 2014!
Do you put systems in place to simplify your work/life? How about digital organization – any tips?
Big thanks to the following carnivals for including my submissions the past two weeks: Aspiring Blogger Financial Carnival hosted by Aspiring Blogger,Carnival of MoneyPros hosted by Your PF Pro, Carnival of Financial Independence hosted by Money Rebound, Carnival of Money hosted by Carnival of Money, Carnival of Retirement hosted by Grad Money Matters, Earn More Spend Less hosted by Student Loan Sherpa Carnival of MoneyPros hosted by FITnancials, Finance Carnival For Young Adults hosted by Stepping It Down, Lifestyle Carnival hosted by Avant Credit, Carnival of Financial Independence hosted by Reach Financial Independence,
Carnival of Financial Camaraderie hosted by Messy Money, Carnival of Money hosted by Carnival of Money
Carnival of Financial Planning hosted by Cult of Money, Carnival of Personal Finance hosted by Debt Blag
Carnival of Retirement hosted by Save and Conquer