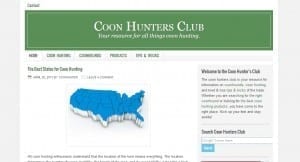 I have good news to report.
All three of my blogs have been improving. Defeat Our Debt is now pulling some rank, the traffic on this blog has spiked since I posted my blogging goals, and my little Coon Hunters Club is getting a lot more traffic, too!
Of course I want to you give updates on all three of these sites, but one by one!
If you're new to this blog, I had a genius idea to start a niche site about coon hunting earlier this year. As genius as my idea may have been there's just one teensy problem: monetizing a blog that's about coon hunting is kinda hard.
The Scoop
My last report on the Coon Hunters Club showed that I was getting around 1500 page views a month. Since that update I've only published one blog post and I have done absolutely no link building. But, guess what? My page views have doubled and the time on the site has increased!
Here's where the Coon Hunters Club is at:

I know, I know you're thinking that 3,000 page views per month isn't that impressive. But, I've got to remind you once again – the term "coon hunters"  is not searched for that much. This means I have some targeted traffic.
And, the crazy thing is that I have been getting a lot of emails from people visiting this blog asking me questions like where to sell or give away their coonhounds………
The Dilemma
The dilemma once again is what on earth do I do to earn money through this site? I have ads slapped up all over the place and they do get clicked. The problem is the payout is pitiful.
I also created an Amazon store and have a few posts up that are heavy with Amazon links. No bites. Not a single one.
The thing is I know quite a few people who are really into coon hunting and they spend big bucks on coon hunting dogs and hunting gear. I mean like some serious dough….I'm talking thousands per year.
What in the world can I do to monetize this site? Do you have any ideas or should I just shut the thing down? I am open to any and all suggestions!
Thanks to the following carnivals for including my submissions this week Carnival of Personal Finance hosted by Start Freelancing Now, Festival of Frugality hosted by Squirrelers, Carnival of Money hosted by Evolving PF, Carnival of Financial Independence hosted by Your PF Pro, Carnival of Financial Camaraderie hosted by Digital Personal Finance, Carnival of Financial Planning hosted by Tie The Money Knot