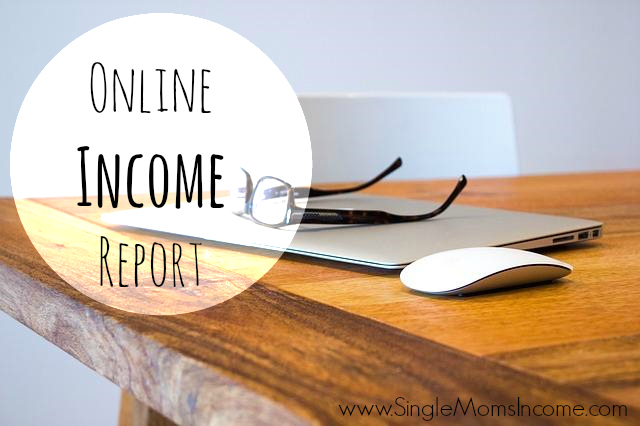 I hope you had a good weekend!
School started back for Kailyn today. I've been sleeping in a little over the past two weeks so I was really worried that it would be hard to go back to our normal routine but luckily, the morning went pretty smoothly!
I also meant to publish this post on Friday but then life happened. So sorry, but you're getting double posts from me today. That's rare 🙂
December Income Report
Surprisingly, December was my best income month to date! I didn't realize this until logging into my Paypal account on Friday and seeing a large affiliate payment. I expected to receive that this month so now I'm a little worried that January won't be as good as December. We shall see!
In December I made $3,865.07
Just as reminder this is what I actually got paid for in December. That means the majority of it was for work that was done in November. This is also a pre-tax amount and since I'm self-employed I have to hold taxes back myself. (And I'm extremely worried I didn't hold back enough last year. But that's a different story for a different day.)
The income broke down like this:
Freelance Writing/Virtual Assistant/Blog Management – $2,182.50
Blog Income – $1,682.57
That's quite a jump in blog income for me! To break it down further here's where the blog income came from:
AdSense – $447.09
Net – $249.99
Affiliate Income – $629.24
Direct Advertising (Sponsors) – $356.25
A couple of notes. The Affiliate income unfortunately won't be a recurring monthly income source. The majority of it came from the EBA affiliate program. A huge thanks to everyone who signed up under my link. It was very much appreciated and if you need help with anything at all please email me!
P.S. If you're interested in starting a blog too, check out How to Start a Blog for Only $12 per Year. This post walks you through setting up your own WordPress blog through GoDaddy, my favorite hosting company.
And in other blog news I finally broke the 100k pageviews mark which is just huge for this blog! I finished out December with 115k pageviews and those keep steadily climbing. For anyone wanting to make more money from their blog or just grow their readership I highly recommend Elite Blog Academy. (Won't reopen until Spring.) This program is the best thing I've ever done for my blog!
Spending/Saving
I've got some pretty lofty goals for 2015 which include earning $60k this year and saving $20k for a down payment. I think I will hit the $60k mark however, it might take me a couple of months to really build up momentum with my income and I'm fine with that.
With Christmas being last month my spending was a little high. (But not too bad I feel like I kept Christmas very reasonable and went for quality over quantity.) I also had to buy a new computer. My current laptop is missing buttons and is now getting so hot I'm afraid it's going to catch on fire.
As much as I didn't want to I bit the bullet and dished out $510 for a nicer laptop than what I currently have.
Even with Christmas, the laptop, and more taxes since I have more income this month, I still managed to save $249.99 (plus retirement savings.) In January I've got to get the savings amount way up if I'm going to hit my goal.
I'll be working on slashing my expenses and getting my budget in order for the whole year this month. (As you'll see with the money management series going on.)
I've also been stalking the Frugal Woods blog. If you're looking for some inspiration to really cut your costs check them out. They have the same mentality as Mr. Money Mustache only they write in a way that doesn't make you feel lazy/worthless/stupid for not wanting to ride a bike everywhere.
In a nutshell it's an amazing blog that will make you reconsider the way you manage your money without sounding preachy or making you feel guilty. It's definitely been added to my favorite blogs list and has been inspiring me to really cut my expenses back.
One Blogger Making a Difference
I also wanted to tell you about an amazing Charity that one of my blogger friends, Josh from CNA Finance, has started.
Josh was looking for a way to give back and decided to start in his own city. He and his friends started Under the Bridge, a program that provides meals for the homeless. They've been delivering homemade meals to the homeless in their city and are looking for even more people to get involved.
I'm so proud that he's doing this and it's definitely inspired me to look for more ways to give back. You can check out all the amazing stuff he's doing at Under the Bridge.
How did December treat you?