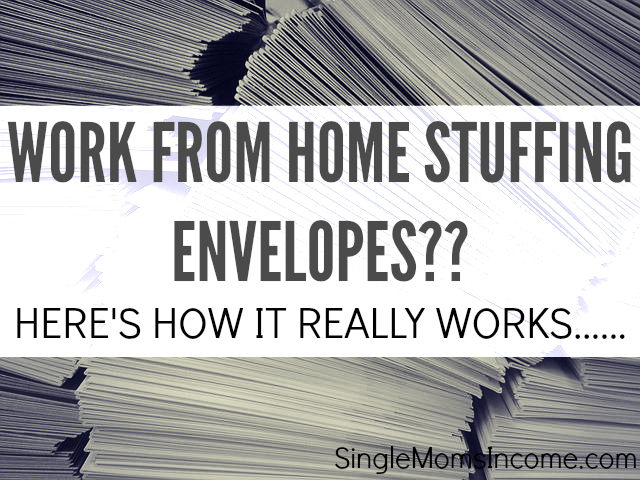 For some reason I get a real kick out of investigating work from home jobs. Well, really curiosity just kills me.
I know better than to believe an ad that says "Make hundreds of dollars a day in mere minutes placing ads on the internet." I know it's a scam. But I just want to know how the scam works! (And after digging up the dirt on the posting ad companies someone actually left me a comment talking about how legitimate these companies really were. Give me a break.)
The whole posting ads thing made me think of the "Make Thousands of Dollars a Month Stuffing Envelopes from Home."
My best friend in high school and her boyfriend actually tried this! They told me about seeing an ad in the classifieds sections and paying money to get some kind of "kit" to stuff envelopes at home. Forget getting a real job, they were going to make big bucks stuffing envelopes while watching TV. Even as a 17 year old I thought it was a scam.
After they got whatever they ordered I never heard another word about it. They were probably just too embarrassed to tell our group of friends that they got ripped off, and I never asked.
Now eleven years later I still see these same ads in the classifieds section of the paper.  I wanted to see how this actually plays out.
Curiosity killed the cat. Here's how the stuffing envelopes from home thing actually works.
Stuffing Envelopes from Home – EXACTLY How it Works
A little bit of Googling showed me exactly how the stuffing envelope from home scam worked. It's very similar to the posting ads scams – a pyramid scheme.
I was actually going to sign up with one so I could show you exactly what you got – but I didn't want to throw away more than $10 so, sorry guys. The fees for these programs range between $30-$70 dollars.
And this is what you get and how it works:
Sign up with a company to "stuff envelopes from home" and pay the start-up fee.
You will then get a flyer in the mail that you are supposed to copy and mail to other people.
This flyer is telling people how they can make money stuffing envelopes at home.
If you're lucky a few people will fall for the scam in hopes of easy money. If they sign up for the "envelope stuffing" program and pay the insane fee of $30 you get small commission (maybe $5) for their sign up.
So as you can see you aren't really being paid to stuff envelopes. Instead you get a commission to trick other people into signing up to stuff envelopes!
There is no product. You're not promoting a business. All you're doing is scamming other people into signing up for a scam.
Let's Be Smart
You know that if it's too good to be true, it's too good to be true.
Let's logically think about this for a minute. If you could make hundreds of dollars a day by stuffing envelopes wouldn't everyone be doing it? And why in the heck would companies pay you to do this when they can instead use technology to do it for them at a much faster pace for a much, much lower price?
This machine folds 9,000 pieces of paper per HOUR making everything envelope ready. It's only a thousand bucks (there are cheaper ones, too!) Nobody is going to pay you to do something that a machine can do much more efficiently!
There are no skills required (other than licking an envelope), no degree required, no specialized knowledge, and no hard work. There's even a stuffing envelopes scam warning on the FTC website.
You can make money online. You don't need a degree you just need the willingness to learn and work hard. Don't look for the easy way out – it doesn't exist!
Looking to make extra cash? Here are some of the top places you can sign up with to get paid for taking surveys. *Opinion OutPost* *PineCone Research* *Life Points* *Vindale Research*