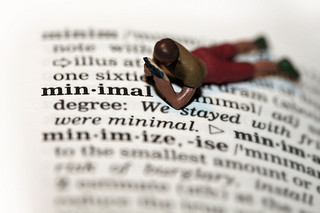 Minimalism has become a popular way of living. It is essentially, limiting the amount of items you have and finding the best use and value in those items.
I came across a blog post last week from Shop My Closet Project about challenging yourself to create new habits. I love to challenge myself and haven't taken on any new challenges recently so I began to ponder what I could do. It didn't take long before I decided that I was going to weed through all of my items, get rid of the non-essentials, and try to live a more minimalist life.
Why Minimalism?
Living in a 900 sq. ft. trailer and having two daughters who have a gigantic toy selection I often find myself tripping over toys. Aside from that frustration the girls simply don't play with many of the toys. They just sit around taking up space and making the house look cluttered.
Toys aren't the only problem we also have an influx of clothing. A lot of it is too small, some has stains or holes, and some of it I just plain old don't like. The clothing has pretty much consumed my bedroom. My girls are constantly pulling stuff out of drawers and trying it on and the end result is a pile of wrinkly clothes being thrown on my bed.
It's all simply too much to keep up with on a daily basis.
Weeding Out the Unwanted
Every day this month I am going to pick an area of my house to go through and evaluate every item. I don't hold much sentimental value to material possessions so I can foresee myself getting rid of a lot. I will sell any larger ticket items on the Facebook Yard Sale, (I might even do bundles, with clothes, shoes, or any other similar items) and hope for a quick sale.
Any broken toys, toys that have missing parts, holey clothes, or anything else that I consider to be junk will be pitched. Any items that don't sell quickly will be donated or pitch.
I just want to be rid of it.
Adopting the Habit
Getting rid of items is only half the battle. The other half is not bringing unnecessary items back in the house. While I try to combat clutter as much as I can now, it sometimes isn't possible while trying to entertain to young girls.
This will be an ongoing challenge and I hope that within the next few months I can really get a grasp on this and make it an automatic part of my life. Living a more minimalist life is great for the mind – no clutter, clear thoughts, and increased productivity. It is also great on the pocket book. Adopting the minimalist habit challenges you to evaluate your purchases and live a more simple life.
Are You a Minimalist? How has it affected your life?