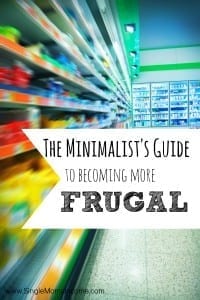 Being frugal doesn't mean you have to spend hours each week clipping coupons, searching for sales, and cooking everything from scratch. In fact, there are three simple steps you can take that will get you more bang for your buck and leave more money in your wallet.
I have a confession.
I am not a naturally frugal person. Sometimes doing more with less just isn't my thing. With two small children to care for and a 9- 5 job to attend, sometimes I just like to go the fast and simple route. The fast and simple route isn't always frugal. And, on top of that sometimes I can just be plain cheap. I skip quality and only pay attention to price, which costs me more money in the long run.
However, over the past year I have been forced to find my inner frugality. And, while it was tough at first I am feeling better than ever. Over the past few months I have stayed on budget, have only ate out 3-4 times, and have had several no spend days. And, it feels good.
My frugality is now shining through and I have really come to enjoy it. I have noticed however, that being frugal is becoming a trend. Some people are missing the whole point of frugality and only trying to save money just so they can claim they are frugal.
The problem with this is an overcomplicated system that is not very effective. You don't need to spend hours every week clipping coupons or scouring sales to be frugal (although there's nothing wrong with that, either.)
 A minimalist guide to being frugal will get you the results you want!
#1 – Evaluate Your Purchases
Frugality is not a complex thing. All you need to do is evaluate your purchases and decide if they are a want verses a need. If your purchase is a need then be sure to get the most "bang for your buck". Remember, the cheapest item is not always the best. Go for price AND quality.
If your purchase is a want then reevaluate. Is that item really worth your hard earned dollars? How many hours would you have to work to buy it? Are you willing to go to work now to pay for it?
You need to look at  the big picture with your purchases – not only with small items but large items too. For example if you're in the market for a new car which is better: taking out a 72 month auto loan so that you can afford it or lowering your standards? That's up for you to decide.
#2 – Shop With A List
Completely avoid those impulse buys by shopping with a list. The last two weeks that I have went grocery shopping I only spent $40 per trip. I was able to do this by shopping with a list. I made a list of everything I needed, estimated how much money it would cost and then only brought that amount of money.
This completely prevented me from impulse buys. After all, how embarrassing would it be to check out and then not have enough money to pay?
# 3 – Prioritize According to Your Goals
If you're like me and aren't a natural frugalista then there must be some reason you are turning down this path. It could be a savings goal, debt repayment, or maybe you are just having a hard time keeping the bills paid. No matter what your goal is, keep it in mind and spend accordingly.
For me, I have to be very careful with my money in order to keep my bills paid each month. I have two options: debt or frugalism. I chose to avoid debt.
Here are some of the things I do to save money:
Bring my own lunch to work.

Bring my own drinks to work. (Stopping at a store for a drink in the morning always leads to impulse purchases.)

Shop with a list.

Grow a garden.

I don't have a smartphone or a cellphone contract.
Keep it Simple
Don't over complicate frugality. Frugality is not time consuming and it's not complex. Do the things that will help you reach your goals and evaluate your purchases. If you want your habits to stick then you need to slowly and consistently develop them. Doing too much at once will only set you up for failure.
Keep it simple and you will quickly find success.
Are you frugal? What frugal habits have you developed?