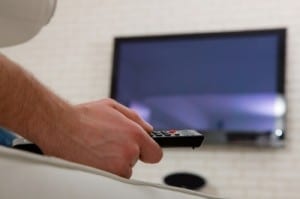 I used to be addicted to reality TV. I wouldn't dare to miss an episode of Jerseylicious, Big Rich Texas, or Keeping up With the Kardashians. If I wasn't going to be home when one of these shows aired I would simply DVR it and catch up after I put the kids to bed.
When I moved out of my Dad's house and into my trailer I had every intention of getting cable (well technically, satellite TV) installed but I kept procrastinating. I had so much on my mind and my plate that TV was really the last of my concerns.
After putting off getting the satellite put up for a couple of weeks, my reality TV withdrawals were pretty much nonexistent. My kids didn't really notice too much either.
Magic Happens When There is No TV
Do you know what happens when you don't have cable TV? Two words: increased productivity.
As long as the weather permits, my kids and I now spend every evening outside. We take walks, play on the swing set, go fishing, and visit family. When we go inside the kids will play with their toys and I will clean up the house or fix them something for dinner.
The only time the television gets any use from us is at bed time when I allow the girls to pick a DVD to watch. They have a collection of about 15-20 DVD's that they watch repeatedly and never seem to tire of.
When they lay down I turn on the laptop and work on one of my projects. If I had cable I probably would put a lot less effort into trying to make extra money.
Benefits of Not Having TV
I did have a friend DVR American Idol for me this year, but other than that I don't watch any TV. It has done wonders for my productivity and probably my IQ as well. Here are just a few highlights of why forgoing  cable TV might benefit you.
Save money (an average of $75/month or $900/year)

Increased focus & productivity.

More active kids.

More time to keep up with household duties.

More time to enjoy a hobby.
As a former reality show addict, take it from me, you can go without cable TV if that is something you want to do. The money you save is an added benefit but the real gain is the giant increase in productivity that you will get.
How about you? TV or no TV?