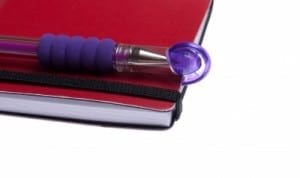 In lieu of living a more simplified, productive life I constantly search for good time management techniques. I have so much that I want to get done (and then there are those things I have to do, like work) that sometimes it's hard to remember everything and fit it in my schedule.
I am always up for reading a good book on time management and applying new tips I have learned into my life. I have a learned a lot from doing this. This past weekend I reread parts of my two favorite time management books The Habit Factor
 and Eat That Frog!
 I combined suggestions from the two as well as ideas of my own to come up with my own time management plan that will help me live a more organized and balanced life.
The Life Simplifying, Goal Achieving Scheduling System
With tidbits of information floating around in my head from all the time management books and blogs I read, I have come up with my own system: the life simplifying, goal achieving scheduling system. (Has a nice ring to it, huh?)
And here is how it goes.
Step One: List Your Goals for the Month (Make them balanced goals.)
For a few months I was only listing my financial or career/business type of goals. And it's not healthy to only have those types of goals. My life is not centered on money. I want my life to be centered on people and most of all I want to be a good parent. A balanced life will bring increased productivity in each area of your life.
List your goals. Make family goals, personal goals, financial goals, spiritual goals, and career goals. Try to create goals that are meaningful to you in at least three different areas.
Step Two: Plan Your Day Ahead of Time According to Your Goals
Set your goals out in front of you and come up with a loose schedule for tomorrow. Remember your entire schedule won't be devoted to your goals because there are those things you have to do like working and household duties.
You can take a look at my goals for July here. This is what a normal workday schedule would look like for me.
7:00 am Wake Up, get ready for work, get the girls ready for the babysitter, and feed the girls breakfast.

8:30 am Take the girls to babysitter, go to work

9:00 am – 5 pm Work

5:00 pm – 6:00 pm Pick up the girls. Read to the girls until six.

6:00 pm – 7:00 pm Make supper, do a load of laundry, girls play by themselves for a little while, eat supper at the kitchen table.

7:00 pm – 8:00 pm Have the girls help straighten up the house. Then color, read, or play with them until 8.

8:00 pm Bath & Bed for the girls.

8:30 pm – 9:00 pm Balance my checkbook if needed. Make lunch to take to work tomorrow.

9:00 pm – 11:00 pm Work online. Finish any posts I'm working on or writing assignments from clients. Check out job boards, apply to writing jobs. Do any other online work that is needed.

11:00 pm Go to bed.
That would be my schedule for almost every work day that I have the girls. On weekdays and weekends that I don't have the girls I would devote more time on the things I like to do like reading and writing. And then on weekends with the girls I would spend more time visiting with family, playing outside, and helping the girls learn new things.
The schedule is simple and it only takes me about five minutes to make it each night. By repeating the schedule for a month I am also developing habits that will stick.
I have incorporated almost all of my goals into the schedule and it's a really easy schedule to stick with. And by writing down my schedule I am much more likely to follow through. It doesn't matter if I don't have the times exactly right as long as I do what's on the list.
What about you? Have you ever made yourself a schedule? I love learning about time management. What are your favorite time management techniques or books?