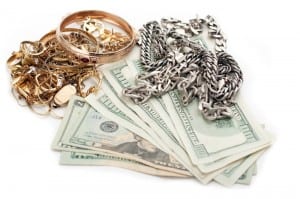 If you've decided that it's time to clean out the clutter in your basement to make some room for new stuff, consider taking the items to your local pawnshop. Doing this allows you to kill two birds with one stone. You get more room and you make some extra money doing it. Here's a list of five items that you can sell or pawn that will net you some quick cash and get rid of your clutter.
1 – Handbags
Your funky leather handbags or interesting purses could be just the things that could earn you some cash and make room in your closet for newer designs. If you take your designer handbags to sell, be sure to clean out the contents and give them a good dusting off before taking them to sell.
2 – Old Computers
The pawnshop is the place to take your old computers and tablets if you're ready to upgrade to newer models. This will give some money to put toward the new computer, help you get rid of your clutter and help someone into what could be a first computer. It's a win-win. Just make sure that the screens aren't cracked or that you're missing keyboard keys before you decide to sell.
3 – Sporting Goods Items
Sporting goods items are popular at the local pawn shop and with good reason. Some sports like golf can cost a pretty penny to get started. If you sell your old stuff, you're giving someone a chance to get a starter set of clubs or a new-to-them tennis racket and relieving your home of some unnecessary clutter.
4 – Videos and DVDs
Video DVDs count as a popular item at the pawn shop. People are always looking for a bargain when it comes to owning their favorite flicks. This presents an opportunity for you to get rid of the movies you no longer watch. If have the full series of videos like "The Matrix," "The Lord of the Rings," or "Harry Potter," the pawn shop might be just the place to sell them for some cash.
5 – TVs and Appliances
If it's time to upgrade your TV or you have a coffeemaker that needs a new home, take these things to the pawn shop for some cash. Because people are always looking for a bargain on TVs and personal appliances, the pawn shop is a perfect place to get rid of some of yours. Gather up all your remotes for the TV in your bedroom and head to your local pawn shop. These things will earn you a nice return if you sell them.
Going through your clutter is an excellent way to get started on tasks like spring cleaning or a move to a new house. And if you're going to be cleaning anyway, you might as well earmark some items to sell to earn some quick cash in the process. So, whether it's that old handbag or the television set in the den, taking them to the pawn shop and selling them is a good, quick way to make real money by selling your clutter.