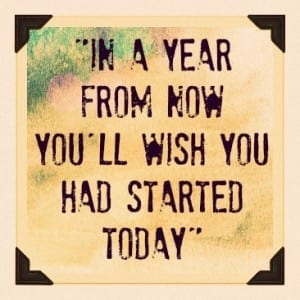 This post is sponsored by Ingo Money all opinions are my own.
If you've been wanting to start a side business but feel like you don't have enough time, you probably do.
When I first started this blog I was working two jobs, taking care of my girls, and still managed to find enough time to write a couple posts per week and befriend other bloggers. Then, this blog lead me to pursue freelance writing. I did both of these things on the side before quitting my full time job in October of 2013.
Maybe you have no interest in blogging or writing. That's fine. There are many side businesses that you can start with just one hour of extra time per day.
Find Your Idea
Finding an idea is the hardest part of starting a successful side business. I've tried so many things and gotten zero results. And, it took me months of blogging before I made my first dime or received my first writing job.
Think about your hobbies and your skillset. There's surely something that you do that other people would pay for. It's also important that you enjoy what you do. There's no way I would have dedicated so much time to blogging and writing while working a day job had I not enjoyed doing it.
Here are a few ideas:
Selling items on E-Bay, Craigslist, or Amazon

Making items to sell on Etsy

Flipping furniture (making the ugly stuff pretty)

Freelance Writing

Tutoring

Consulting

Blogging

Writing an eBook

Web Design

Cleaning Houses

Helping People Organize
There are just so many possibilities. You might have to try out a couple ideas before you figure out what fits the best with your life and personality.
Make Your To-Do List
Now remember, you only have an hour a day. Make that hour count!
Make a list of all the things you need to do to get your side business up and running. You might need to make a website, market your business, spread the word through social media, etc.
List all of the things you need to do from most important to least important.
Focus During Your Hour
Now that your hour to work on your side business has come, make the most of it. Set a timer, start with your most important task, and stay focused until your hour is up.
Keep doing this everyday – always focusing on the one task that will bring you the most results.
Within a month or so you should start to pick up momentum and see results from your efforts.
Be Consistent
While some ideas just flop (trust me) you usually get out what you put in. Just be consistent and use that one hour to your advantage every day.
 If you decide that the business idea you picked isn't going to work that's fine, too. You need to find a side business that is fun for you – not one that you dread doing. Let failures be used as learning experiences and you'll have a better shot at making your next idea work for you.
Save Some Time with Ingo Money
Ingo Money is a mobile app that allows you to load funds to an enrolled prepaid card by taking a picture of your check with your smartphone. You can choose to pay a small 1% or 4% fee depending on the check type (with a $5 minimum fee) to load the funds to your card in minutes, or you can wait 10 days to load the funds to your card for free if the check does not return unpaid. Learn more about Ingo Money.
Through February 11th you can play Ingo Money's instant win game on Facebook for a chance to win a $20 e-gift card daily. You'll also earn a sweepstakes entry each time you play and each time someone plays through your share link. The grand prize is $500 towards the smartphone of your choice. Play the Ingo Money Instant Win Game
Disclaimer:I am blogging on behalf of Ingo Money and received compensation for my time from Ingo Money for sharing my views in this post, but the views expressed here are solely mine, not Ingo's. Learn more about the Ingo Money mobile app at http://www.IngoMoney.com, or connect with the Ingo community at https://www.facebook.com/ingomoney.