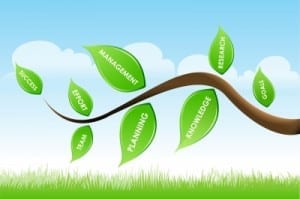 When I first had the idea to start a side business my thoughts were that it would take approximately a year to bring in enough income to account for anything. And – I was partially correct.
When I first started, my online income ideas were a mix of all sorts. I thought I would make money selling items on eBay and Craigslist, helping local businesses with their websites, earning money through blogging, and by creating niche sites. Freelance writing was nowhere near the top of my list.
It wasn't until I was browsing blogs one day that I began to notice the same few freelance writers on several sites. I was intrigued and impressed by this, so I emailed one of these writers (Melissa from Mom's Plans) asking her how she broke into freelancing. She replied back giving me some helpful tips and pointed me to a blog that could teach me more.
From there I was literally hooked on the idea of writing for money. Why hadn't that been one of my original goals?
So, I soaked up all of the marketing and freelance writing information possible. I started experimenting with different marketing tactics and ended up getting my first couple of jobs.
I can only think, if freelance writing had been my interest one year ago where I'd be at now.
Consider ALL of Your Options
I can't help but feel that writing wasn't on my agenda for the fact that it intimidated me. Nobody wants to be told "No, you aren't good enough." But the thing is that's all you have to be – good enough. Not the best just good enough.
I am not the best writer in the world but I enjoy it. I'm full of ideas and I'm pretty quick. Add a dash of confidence and you've got a freelance writer.
When you set out to choose your side business you need to pick something that you enjoy doing. When considering your options push all fears aside. You can overcome your fear. What you can't overcome is dealing with a side business that you hate.
Learn, Learn Some More, & Then Act
I have always been a learning junkie so when I choose a new side hustle I thoroughly research the subject. And when you are wanting to break into a new field you need to learn as much as you can.
Once you have narrowed down your side business idea you need to learn how to market yourself. You need to know what type of a time commitment the business will involve and you need to be very specific about what type of customer you're going to target.
Learn as much as you can and apply what you've learned. Keep mixing it up until you get it right.
Make Specific Goals
When I first started this blog my side business goals were pretty vague. They looked something like this:
Make an extra $400 this month.
Okay, but how?
As time went on my goals got pretty specific. I'd set a goal to get X number of clients per month or to send out X number of writing inquiries per day or week.
In the beginning, progress simply cannot be judged in dollars. It needs to be judged in effort. Send out letters of introduction. If they don't work tweak your marketing approach. Keep marketing yourself until you land your X number of clients.
Even if you don't meet your goal you tried and know the next month you need to take a different approach.
Another thing I do differently now is set a certain amount of money I want to make per hour in addition to what I want to make per month. This way I can make sure that my time is managed well.
Apply Laser-Like Focus
I am happy with where I'm at  but, I also feel like if I knew then what I know now I'd be a whole lot farther. When it comes to starting your side business you need to be specific. And most of all you need to find something that you enjoy.
It doesn't matter if you're writing, designing websites, selling products, writing books, blogging, or anything else. The tighter you focus your business plan, marketing, and goals the faster your side business will grow. Period.
What do you wish you knew when you started your side hustle that you know now?