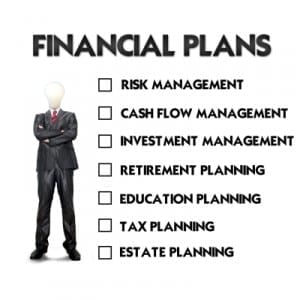 As far as financial planning I have only been specific about what lies ahead during the next year. And seeing as I made this plan when I was working two jobs, it is in serious need of an updating. As far as planning 5-10 years in advance, I have loosely laid out my goals, but I have yet to get specific.
Pros of Planning Ten Years in Advance
It's nice to have a piece of paper that can act as a financial guide, even if not followed to a T. Planning so far in advance forces you to think about what you want your financial life to look like five or ten years down the road.
Here are a few financial categories to consider when making your ten year plan:
• Amount of Cash Savings
• Amount in Retirement Funds
• Amount of Debt
If you are working toward any longer term financial goals such as paying your mortgage off early or saving for a down payment for a house, be sure to include these, as well as any of your other goals.
Cons of Planning Ten Years Ahead
One of the biggest cons of planning so far ahead is that you just don't know (income-wise) what the future will hold. Take me for example. Currently I just make enough money to keep my head above water. However, I think that should change in the near future.
Should I plan with the income I am bringing home now? (Which pretty much allows for zero planning.) Or, should I think positive and plan a little more ambitiously?
I think I'll choose the latter of the two.
My Ten Year Plan
I am being a little ambitious with my plan. But, you never know, in a couple of years I may be a lot better off than I am now and be able to adjust my numbers up. So, this is my plan.
In Ten Years I Want to Have…….
• $10,000 in my emergency fund.
• $100,000 of my own money put into retirement accounts.
• 2 Investment Properties (Bought for somewhere around $50k each)
This sounds reasonable to me. I have been contemplating going back to two jobs which would make this plan doable. When I had two jobs my income was nearly double of what it is now.
Housing is something that could be on this list but as for right now I don't know what I want to do in terms of buying a house or just living in the trailer for a while. I'll add a housing goal when I get that figured out.
I have almost hit this year's $5k emergency fund goal with only $450 left to go. So in the next 10 years I would need to save $205,000 dollars or approximately $20,500 per year.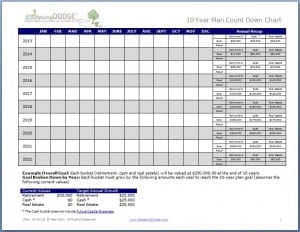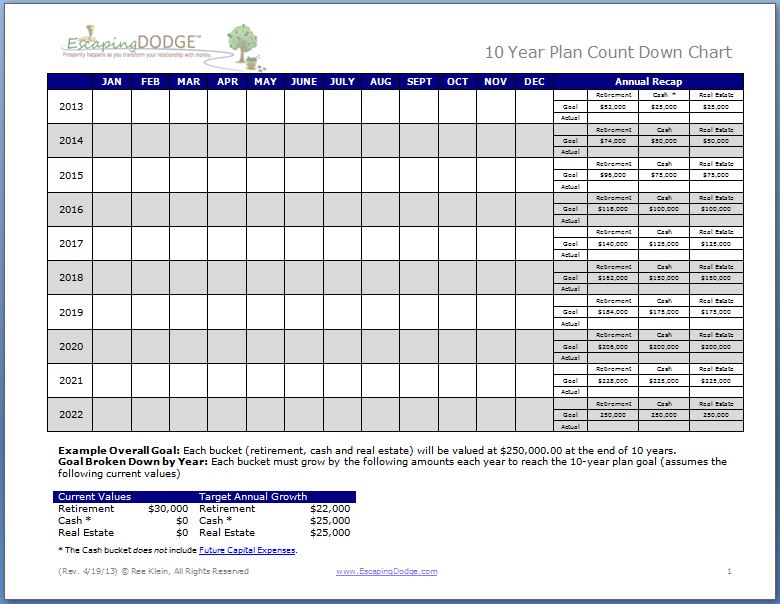 I found some very helpful worksheets for laying out a ten year plan at Escaping Dodge. These worksheets help you plan and record how much money you need to be savings and allow you to mark you progress accordingly. If you want to check the worksheet out visit this post, Charting Your Ten Year Plan Progress.
Do You Have a Ten Year Plan?