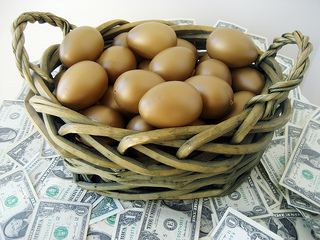 Saving for retirement is one of those things that a lot of us plan to do but never quite get around to. The younger you start saving the less money you have to stash away to meet your goal. Saving for retirement is still something that I have not started to do.
My employer does not have a 401K plan so it's up to me to start my own retirement account. I had set a goal this year to save $2000 and open up a Roth IRA. I am almost finished with my emergency fund target for the year so I will begin the retirement savings next.
Aside from opening a Roth IRA I like to explore different options I am not well versed on investing in the stock market, I will have to research it a lot. when that time comes. One thing that always holds my interest is real estate. Here is my plan:
Rental Properties
I love real estate and building a portfolio of rental properties is a great way to fund retirement. I would like to have 15 rental properties paid for by the age of 65.
If all the properties rented for $650/piece (will probably be much more than that 40 years from now, but so will the expenses) I would be looking at $9750 per month.

I would like to have all of these properties paid off but I would still need to pay property tax & insurance. I'll figure this will be close to $150*15/month. Total $2250

I want to enjoy my retirement so of course I will hire a property manager. I will assume that he/she charges 10% of monthly rent. Cost $975/month

Lastly, I have to plan for contingencies. There may be some months when repairs need to be made and some months when I don't have a renter. I'll add in a 10% expense for when these types of things come up. Cost $975
Total rent collected $9750. Total expenses $4200.
Monthly Income Amount = $5550. And this income will be completely passive because I will have a property manager taking care of everything for me.
I could stop here and live off of the $5550 a month. That's over double what I live on now.
Of course this is all hypothetical. Luckily I still have 39 years to find and pay for 15 rental homes. It would be even nicer if I could do all this by the age of 55 rather than 65.
Putting All of Your Eggs In One Basket
Even though I am confident in the fact that I want to use rental properties for retirement, I know it's not smart to put all of my eggs in one basket.
These are other options I would like to throw in the mix
Roth IRA (next on the savings list)

Annuities (my boss seems to be big on these)

Certificates of Deposit (for a little bit of safe money)

Cash Savings (super safe money)
This is the year that I will get started saving for retirement. When I get enough money saved to open an account I will do some heavy research and share my choices and progress with you all.
Have you started saving for retirement yet? What route is most appealing to you?