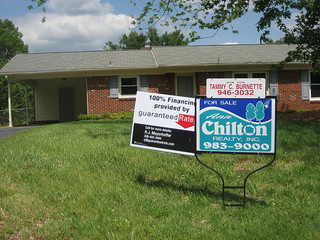 Ever since I have been making financial goals, investing in real estate has been high up on my list. I have been thinking about what I want to do with my savings money after I complete my emergency fund. It would seem logical that I would want to save to buy a house, but honestly as long as I can keep my electrical bill under control, my current living situation really isn't too bad.
A couple of years ago the ex-husband and I bought a house and flipped it. It was a bit risky, but we purchased the home for $25,000 with the thought that if we can't flip it we will just rent it. The monthly payment was $126, definitely low enough for us to swing even if we didn't have a renter. Things ended up going very well and very quickly. We sold the house for $39,000 two months after purchasing it.
I am obviously in a different financial situation now, fending for myself. But as soon as I get back on track with my income and savings goals I am going to start saving for an investment property. I live in a fairly small, country town. You can find a decent two bedroom (foreclosed) home in my area for $25,000 – $35,000.
I have almost hit my emergency fund goal and as soon as it is complete I am going to start putting money aside for a down payment on an investment property. Right now I am thinking more in terms of a rental rather than a flip house, but if I can find that perfect property then I won't rule anything out.
I am excited to get started on this goal. Have you ever considered investment properties? Any thoughts?