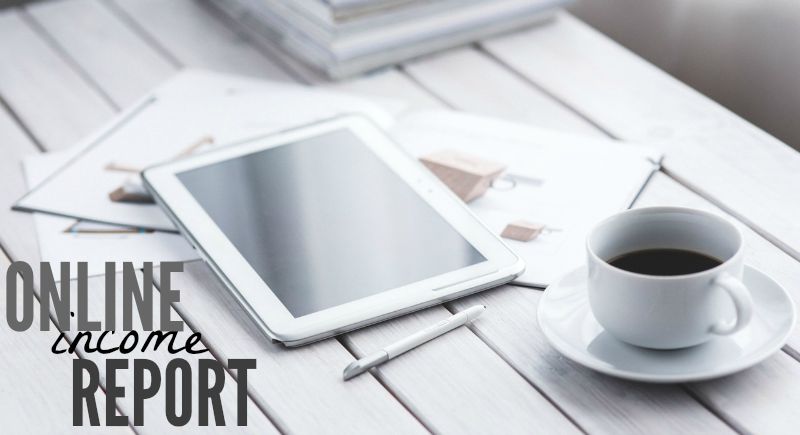 A little random fact here: I always have the hardest time coming up with an opening paragraph for these posts. Now that you're aware of that tidbit of info I think maybe it's best to just start from the beginning. 🙂
How I've Gotten to this Point
If you're new here I've posted income reports ever since I started this blog three years ago. I initially had goals of making a few hundred dollars a month and then slowly growing that amount. Luckily, that's what I've been able to do.
Also, when I started this blog I was a single mom but I got remarried earlier this year. (And have complete indecisiveness on what to do about the blog's name, just in case you ever wondered.)
So that's how it started.
I was working low paying jobs and since I live in a small town and don't have a college degree I knew the only way that I was ever going to earn a decent income is if I took things in my own hands. I started experimenting, had several failures, and eventually fell into freelance writing.
I built an emergency fund and grew my freelance writing income big enough to replace my day job at the time. (Which was only around $1,800/month.) After that I quit my job and started working from home full time.
Since then I've also been able to generate income from this very blog which you'll see below.
November 2015 Income Report
In November there was really nothing new going on. In fact, I ended up babysitting my niece the majority of the month which really limited the work I wanted to put in. It was a very unexpected thing and even though it disrupted my plans I'm very grateful that I was in the position to help my brother. ( FYI – I'm referring to my middle brother – not the one who was in the trailer.)
He did finally find a babysitter though. (*Happy Dance*) So I plan on working on some new things come this month and in January.
With all that said here's how November turned out.
Total online income for November – $4,925.77
It broke down like this:
Freelance (Writing & Virtual Assistant Work) – $995
Blogging Ad Networks – $2,392.59
Blogging Affiliate Income – $788.18
Blogging Sponsored Posts – $750
Just as a reminder this is money I actually received for the month and doesn't really reflect work done in the particular month. I have to wait 30-90 days (sometimes more) to receive payments on a lot of things.
My expenses came to roughly $412 and I save 25% of net income for taxes making actual take home, spendable (or save-able ) money around $3,385.33 Hopefully that puts things into perspective a little better.
Things were a little lower income-wise this month and I expect the same for next month too. However, I'm not complaining and instead am very grateful.
I hope your November was good as well!
If you currently have a blog but are having trouble building traffic or making money you can get Ruth Soukup's free e-book 7 Ways to Boost Your Blog Income Overnight for free here.. Ruth is the creator of Elite Blog Academy which is the course that helped me 10x my traffic and income.
(Elite Blog Academy is not currently open but you can still download the free e-book and get on the waiting list for the next enrollment.)
Related Posts: