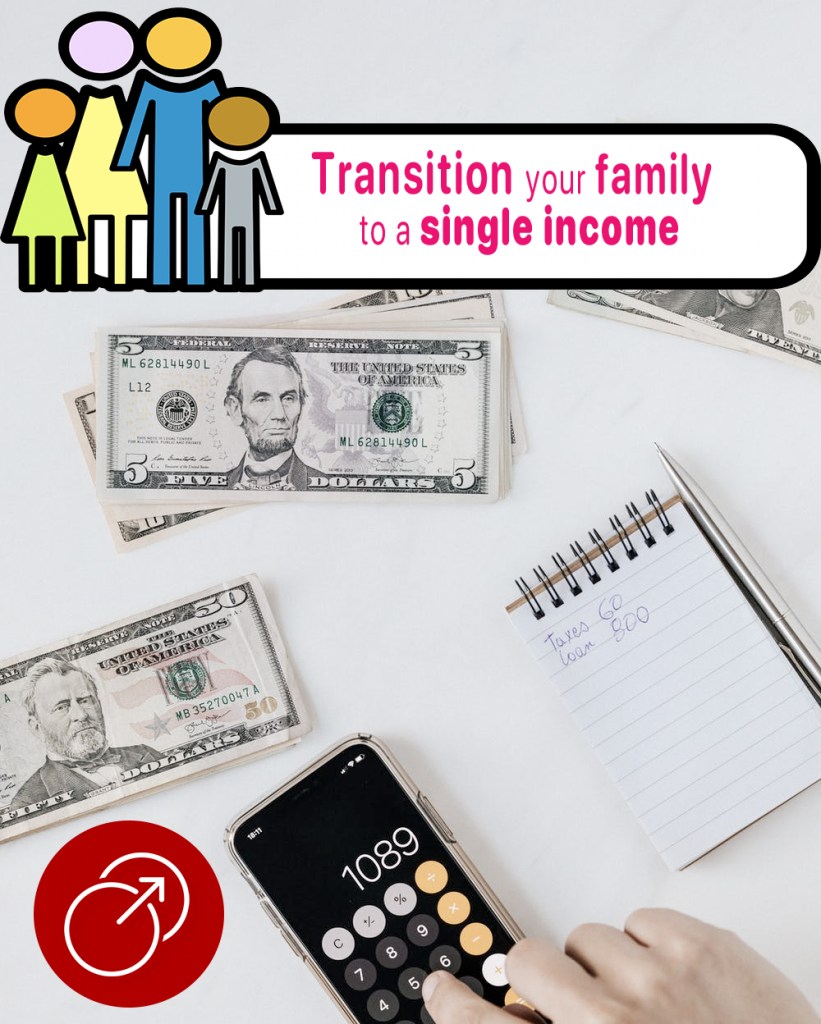 One of the hardest things about staying at home as a mom is doing it on a single income. Let's look at how to transition your family to a single income. As a mom, I've realized that all moms have different opinions. This is whether or not to stay at home or go out to work. In addition no matter what choice you make there's no Right or Wrong!. This post is targeted mainly at moms who have been working outside of the home and would now need to or like to stay at home on a single income.
Transitioning Your Family To A Single Income
In this post, we will be giving advice on big issues to consider when transitioning your family to a single income. Furthermore, we will be breaking down these issues into little understandable chunks. It can be very difficult even with planning and budgeting to live on a single income however we are here to help.
Buy Second -Hand
Many of the items we tend to buy can except consumables can be purchased second hand. Nowadays there are many online sites and shops that sell second-hand goods at low-cost prices. Before you buy any item you need to see if you can purchase it second-hand. You may also be able to swap clothes or good with friends and family members when you're both looking for a change of environment. This is a great way of getting second-hand goods from someone reliable. As we live in a high economy environment many second-hand shops and sites are full of good quality items. Many items are on sale just because they are no longer needed and have hardly been used. You can really get yourself a bargain!.
Read: Guide To Getting Free Kids Clothes
Stream T.V Shows
Paying for cable can be a big cost, it's a lot cheaper to pay a monthly fee for Netflix or Hulu instead. not only are online streaming sites cheaper but they allow you to stream your favorite shows and set up parental control for your children. With this restriction, your children will only be able to stream kids shows without your consent. Another great thing is that once a series is uploaded you don't have to wait for each episode to available on T.V.
Read: Cheap Alternatives To Cable TV.
Switch Grocery Stores
There are many grocery stores that could be cheaper than the one you already shop at. Have you ever shopped at Aldi? Once this store opened in my town it was the first thing I checked out with my family. To my surprise, there were many items that I could get for a quarter of the price. You can get a whole cart of shopping for half the price of your regular shopping. the only downside to Aldi is that there are not many branded items available. This does not phase me at all as many of the equivalent items are just the same. If you are a brand junky then this may not be the place for you however brands are just a name and many items taste exactly the same or even better you same money!.
If you're still unsure of shopping at Aldi check out this article on why you should consider at least trying Aldi if you have one in your area.
Read: 16 Smart Ways To Save Money On Groceries.
Say "No" To wants And "Yes" To Needs.
When it comes to a new outfit or toys for your kids we all love to splash out. Wanting and needing things is natural. when we walk into shops such as Target many of the items we purchase as moms are "wants" rather than "needs". You may go into purchase a lightbulb and come out with a cart full of items such as clothing, toy, and accessories. when you need to make it as a single mom on a. single income wants are no longer an option. This does not mean you cannot splurge out on items now and again. However, your main priority should be spent on covering your "needs".
Cut Back On Unnecessary Monthly Expenses.
It's important now more than ever for you to go through your bank account. Look for monthly payments you make that ate outside of your basic needs and budget. You will be surprised at how much activity is going put on your account that is not necessary. There are many ways in which you can save up for extra activities for your family and a great way to start is by cutting back on monthly expenses.
Wait For Sales
When it comes to shopping in stores it's important to keep a lookout on the companies website for sales. "However many of us know that near the holiday periods there is bound to be a sale or two. If your an online shopper like me as I hardly have any time to go out then you can browse but it's important not to purchase until there is a sale. I tend to keep all my favorite items in the cart. When I see or receive a prom code that's over 40% I'll purchase the items. Sometimes however |I'll decide if I really need the items and if not I'll just wait for the website to have a sale instead. It's also important to make sure the shipping is not costing you more than the items you actually purchased. You may also want to wait for a free shipping promo code. As you wait for a promo code or sale you may also find yourself going off an item that will save you a lot of money in the long run.
You can also add price trackers to your Brouwer. These add ons will tell you if an item you're interested in has dropped in price check out Otsledit.
How To Transition Your Family To A Single Income- Conclusion
As you can see there are many ways in which you can transition your family to a single income. The main way in which you can save money is by cutting down on your spending. This can be very difficult as there are many times in which we want to spoil ourselves. We may also feel the urge to spoil our kids which can cost a lot. Furthermore, if you have the willpower to say no-no and again you'll manage to save a lot.