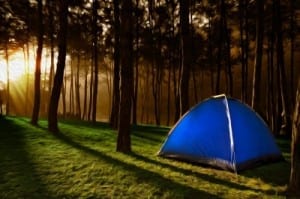 Vacation has been on mind a lot lately. This is probably due to the fact that I am due a one week vacation at work and my boss wants me to take it before August. I am ready for a break anyway, so this suits me just fine. So on June 17th I will officially have a one week break!
I wrote about taking vacations on the cheap on the Fat Wallet blog a few weeks ago, but since my "less" is probably lower than most, I need to be a little more creative with my vacation ideas.
If I stick with the new budget I made I will have about $300 to spend on vacation. I really want to get away or do something for at least a couple days. And of course I want to make some fantastic memories with my girls.
Here's what I am thinking.
Option Number 1 – Camping
The location of our camping trip would be the determining factor as to whether the girls would enjoy this. Some place that's not too crowded but is still wooded and preferably has a pond or lake would be ideal.
If I could find a campsite to suit us I can borrow all the camping gear from my dad. Our cost would just be the campsite rental and any food we buy.
My brother and his son would probably tag along if I did this. That's major bonus points in my book.
Pretty cheap!
Option Number 2 – A Stay in the Amish Country
I have been browsing Living Social "escapes" section to see what kind of deals they have. I have seen a few cabins available in the Amish Country for a 2 night stay for $172. There is a big lake at one of these spots so we could go fishing, take boat rides, and tours of the Amish country.
I figure I would probably spend close to $100 in gas for the trip there and back, plus another $150 on food and activities. I could get a friend to go with me and split the $172, so this is still doable.
Option Number 3 – A Day at an Amusement Park
The girls would probably love this the most but I think it would be the most expensive. I would have to get another adult to tag along. (There is no human way possible that I would be able to stay sane while trying to keep up with a three and four year old at a packed amusement park.)
The last time I went tickets were around $40 a piece. It would cost around $120 for all of us to get in and I have a feeling the remaining $180 would be spent fast.
This is a last resort……….      
Help me out guys! If you had $300 where would you go for a mini vacation? Have any of you ever taken a really cheap vacation? If so, where did you go and what did you do?
Any suggestions would be much appreciated!