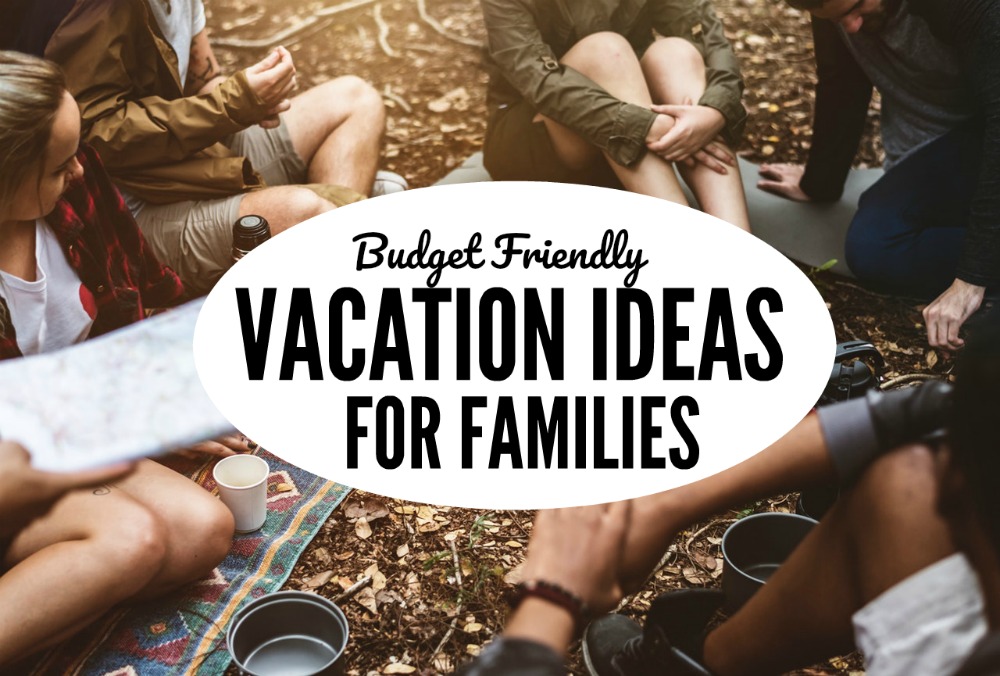 My family and I just got back from a short trip during my son's spring break. This was one of the most inexpensive trips we've ever had.
We drove to another state and took advantage of a few free attractions and were able to create some awesome memories together and take some time to relax.
Since I have quite a few debt payoff and savings goals this year, we don't plan on having any big family vacations this summer. My son will be active with summer camp and we may even do another weekend trip but, we won't be spending lots of money on a big family vacation.

Still, summer vacations don't have to cost a ton of money and you can make them frugal when you're trying to enjoy a family trip. Here are some of my favorite budget-friendly summer vacation ideas for families.

Camping
Camping is a great way to enjoy time with your kids without distracting electronics. Many campsites open their gates to campers when the weather turns each year. Normally you can get away with light meals and cook your own food to save money.

You'll need some supplies like a tent, air mattress, cooler, and any other materials that will help make the experience comfortable and convenient. Pick a location near some hiking trails so you can go and enjoy some nature while you have some daylight. Spend your time hiking, fishing, and playing games while enjoying the summer weather.
Day Trip to City Area
If you live in the suburbs, drive into the city and spend the day there by playing tourist. Bigger cities are usually filled with free and affordable family fun activities to choose from.
People can take advantage of a city pass if it's available. City passes offer discounted rates on different attractions across the city. That way, families can not only save money but get a variety of activities to do.

Some cities have more hands-on museums that let children get up close and personal which makes for a better experience for them. City Passes sometimes give options on what attractions are included so if that is something that interests a family that can be something they can book.

Since a family would only be driving in from a suburb they can save on hotel costs. They don't have to spend the night in a hotel they can actually just drive back home. Just have a few hours of fun and take advantage of living so close to a large city.

Waterpark Discounts
Waterpark resorts provide another way for families to enjoy themselves this summer. You may think the idea of staying at a waterpark resort is expensive, but you will likely save money.
By paying one price you'll get your room along with access to the on-site waterpark(s) that the whole family can enjoy. Once you get into the park, your family will have a ton of options including the lazy river, wave pool, water slides and sometimes even playgrounds.
Wisconsin Dells is a major family-friendly waterpark attraction and their resorts offer a ton of indoor and outdoor pools. Groupon and other discount sites often have deals that you can use to score discounts.
Sign up for emails and you'll also be alerted when your favorite waterpark resort is offering seasonal discounts.

Visit Family
Going to visit distant family can also be treated as a vacation. It's hard to get around to visit friends and family while the kids are in school. When they are out on break it frees up time to go hang out with family members you don't see much. Even spending a majority of the visit just at their home can be a great time filled with laughs and catching up. Plus, you may not have to spend money on a hotel if you can stay with relatives.
Allow relatives to show you around town including all the best affordable restaurants and activities for locals.

Visit Areas With Family-Friendly Activities
To make the most of your budget-friendly family vacation, consider visiting a destination that has a lot of free or affordable activities for kids and families.
Consider areas that have free or discounted museums, zoos, and other attractions. Some towns even have very large fairs and festivals during the summer that are free to attend.
Concerts and fireworks shows are usually included as well. Food trucks are often there to help feed the empty stomachs! It can be a way to let the family try some different food that you may not get a chance to all the time. It could be beneficial to book your vacation around these events and opportunities.

Save Money on Flights For The Kids
Transportation costs tend to increase the overall cost of your trip. However, you can still fly with kids and save money by taking advantage of some airline deals. Frontier Airlines offers a 'kids fly free' program parents can use. It's not just the children that are small enough to carry either. Any child 14 years old or younger can fly free on select flights with the purchase of a Discount Den member fare.

Discount Den members also receive special deal notifications before anyone else! Only one kid can fly for free per paying adult, but it's still a great saving! International flights are not included and this can't be combined with any other offer or discount.
By not having to pay for your kids' flights, it can significantly cut your travel costs and you can keep costs under control by visiting affordable destinations for families like Myrtle Beach (SC), Gatlinburg (TN), St. Louis (MO), and Dallas (TX) just to name a few.
A family vacation doesn't have to bust your budget or set you back when it comes to reaching your goals. You can find affordable options to get away whether it's locally, or involves visiting loved ones or checking out free attractions in other cities.
What are your favorite budget-friendly summer vacation ideas for families? Are you thinking about going on a vacation this summer?