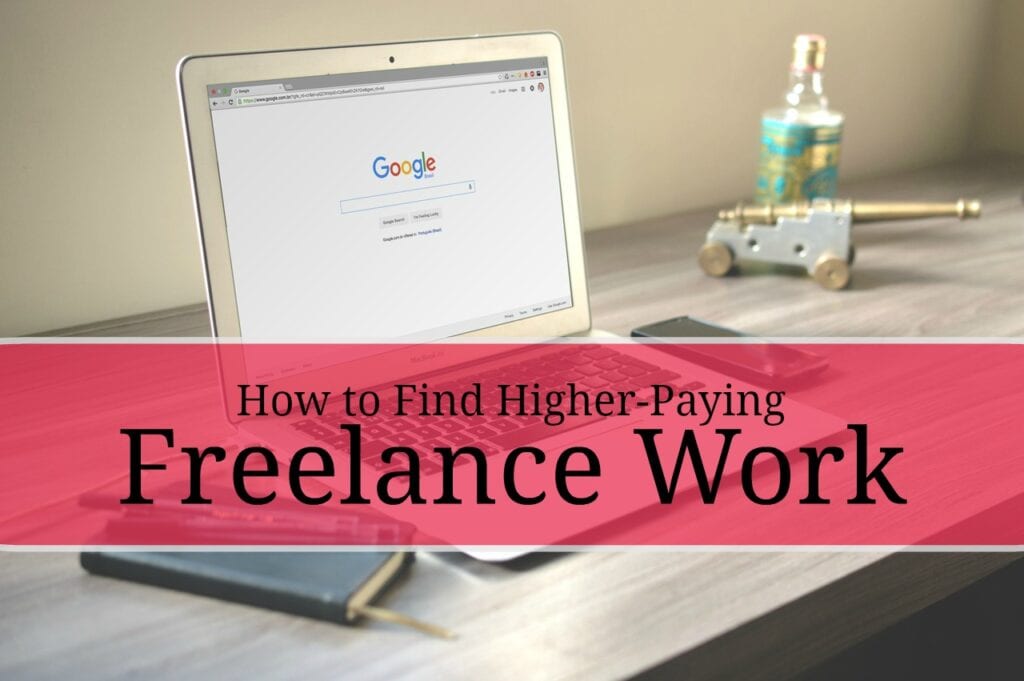 Last week we covered tactics to help you find an employer who can afford to pay you more money and consistently provide raises. This week, we're going to cover the opposite side of the spectrum for freelancers who are in search of higher paying clients. Looking for your ideal client is a bit different from looking for your ideal employer.
If you're looking for high-paying freelance jobs, here are some effective tips to help you find them.
Look the Part: Be Professional
If you want land high-paying gigs, you'll need to attract high-paying clients. Thus, convincing potential clients that you are legit, professional, and worth the rate you're asking for is a must. One of the best things you can do is start a website to showcase your work and your potential.
You can even take it one step further and start a blog as well to help you share valuable content, updates, and the latest examples of jobs you've done in the past. Have a page that clearly shares that you are looking for more work and specifically what types of assets you can contribute. Don't forget to include noteworthy past clients and media mentions to help you stand out.
Taking the time to set up your own website will not only communicate that you are professional and serious about the work you do, it will attract serious clients and make you appear more approachable and memorable.
In addition to setting up a nice website, conduct business in a professional manner. Respond to email inquiries that come in during business hours promptly, listen to directions thoroughly, take pride in your work etc.
During my first summer freelancing, I somehow managed to beat out hundreds of other writers for a job ghostwriting for a prominent individual in my niche. I found out about the lead from a friend, filled out the application to the best of my ability, and crossed my fingers.
After all the applications were reviewed, the client actually shared a blog post detailing what he liked and didn't like about the applications he received and basically called out the ones that weren't professional enough or clearly demonstrated certain people didn't follow directions carefully in regards to answering the questions.
I learned a valuable lesson from that experience.
Avoid Competitive Job Boards
Popular job boards are extremely competitive and can offer freelance gigs for very low pay. I know as a writer, there are a few job boards that are set up like an auction where the jobs go to the lowest offer since clients don't want to pay much. Not all job boards are set up like that and may be worth a shot if you are just starting out. But for someone who is depending on freelance income for living expenses, job boards like those can set you up for failure.
In most cases, you're better off cold pitching companies and individuals who you would like to work with whether they advertised an opening or not.
Go After Larger Companies and Develop a 'Lead List'
Instead of paying someone to help you find leads or taking the easy way out and using job boards, try taking a little extra time to draft up a lead list of potential clients you can pitch for work.
Cold and warm pitching is just something you'll have to get used to as a freelancer and the more you do it, the better it will become.
In order to find reputable prospects, search for larger companies in your niche who seem to have the budget to afford your rate. Small companies and even solopreneurs may not have the budget to keep offering you consistent rates and competitive raises. If you like working with smaller clients though, I would still highly encourage it especially if your work is enjoyable.
There's no harm in mixing in a few corporate clients as well though. Instead of performing a random online search for companies that I could service, I also like to pull prospects for my lead list from conference attendees lists that are public, companies that I come across on social media especially Twitter, and ads I see online or offline even if they are just marketing ads to promote a company and not job ads.
The key is just to keep looking in unexpected places and getting out of your comfort zone when it comes to pitching. Many people are hiring even without announcing it to the masses.
To make your pitch less of a cold pitch, try to specify who your point of contact is and connect with them on LinkedIn, follow them on Twitter, comment on a blog post, etc. so they get some sense of who you are.
Network. Network. Network.
Whether you are an introvert or extrovert, there are plenty of effective ways to network while still feeling comfortable and staying authentic.
If you like face-to-face interactions, you may enjoy going to conferences, and live workshops or attending local meet-up events intended to connect others in your industry. It's important to view other freelancers and business owners in your niche as potential partners and not competition. I've landed so many quality writing jobs just from asking people in my network for help and insight.
If you are more of an introvert, you may like how easy social media makes it to connect with others. You can follow people who inspire you on Twitter and build a connection, join a Facebook mastermind group for support, or attend an online webinar to learn a new skill or technique while interacting with experts in your industry.
Once you build a solid network, you can start to tap into it when you need to. Like I said, I've landed many good and high-paying writing jobs simply from asking others for help with leads, or even receiving referrals from people in my network which is the best way to get jobs in my opinion.
Promote Your Work
Promoting your work is extremely important because you never know who will see it. At first, it can seem like you're bragging, but don't let that misconception hold you back from putting yourself out there.
Social media makes it extremely easy to promote your website updates, blog posts, and events. You can even go a step further to schedule out social media updates, so you don't have to manually post them. Also realize with Twitter, you'll need to post the same update a few times each day in order for most people to see it so don't feel bad about tweeting something multiple times per day.
Also, try to get your name out there by doing guest appearances on podcasts, submitting a guest expert article to another site, or asking some of your current clients to promote your work as well. The main benefit of promoting your work is that your next big client can see it. Believe it or not, some people actually approach freelancers for work and not the other way around.
A few months ago, I landed my highest paying client because I wrote a really popular article on another site. They saw it, liked it, and decided to reach out to me so I could write for them too. It was nice because I'm sure no matter how much I performed specific searches online, I probably never would have came across that company if they wouldn't have found me so I'm glad I put myself out there in order to receive that opportunity.
Are you a freelancer? How do you find high-paying clients and secure quality gigs with them?