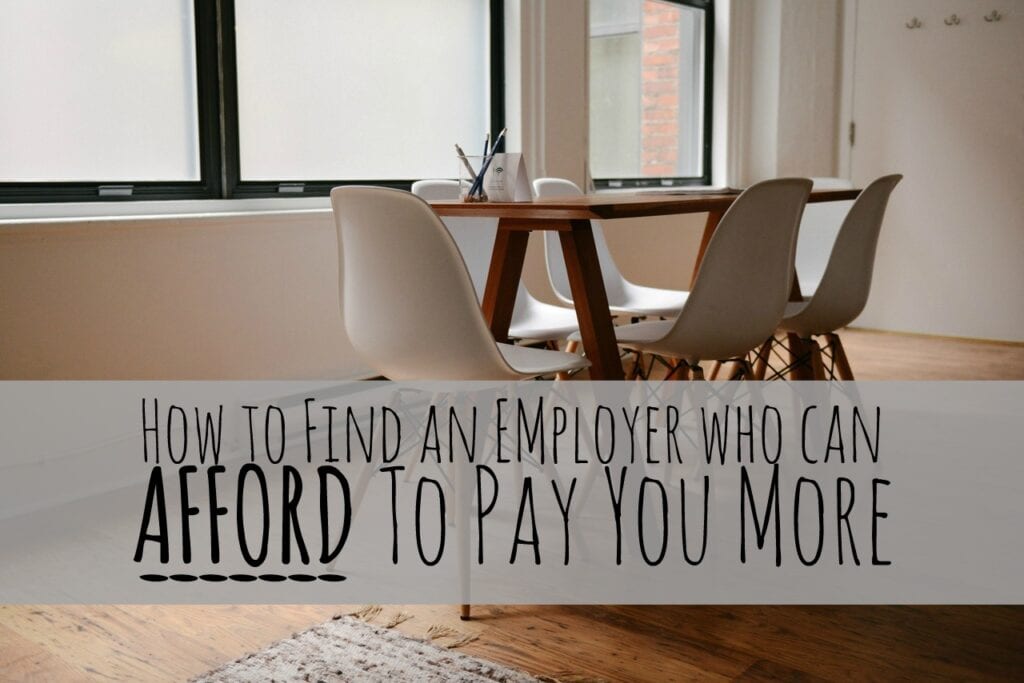 If you want to earn more money, one of the main things people will tell you to do is ask your employer for a raise or find a better job. I've talked about how women especially need to feel comfortable asking for raises because it can help them earn more money over the course of their careers. I believe whole heartedly that if you don't ask, the answer will always be no.
On the contrary though, we have to consider the people who ask for raises and don't receive them. At the end of the day, not everyone who requests more money from their employer will get it. For the people who try but don't score raises, there may be nothing wrong with their approach or timing, but their employer's funds and budget can be the true culprit.
Ultimately, in order to earn more money, you need to find someone who can afford to pay you more. This post is a part of a two week series. This week I'll discuss how to land jobs with employers who can most likely afford to provide you with a raise consistently over time, and next week I'll cover the freelancer's edition and discuss how to secure clients who can afford to pay you more.
To find a traditional employer who can afford to pay you more money overtime, there are a few things you can do but you must start early before you are even offered a position.
Research Each Potential Employer's Public Records Regarding Their Income
Did you know that you can find out a rough estimate or even real numbers that depict how much certain companies earned each year?
In order for an employer to provide you with a pay raise, the company has to be doing well financially in order to afford it. While you probably don't want to just flat out ask if your company can afford to pay you more, you may want to do a little digging on your own to come up with your own conclusion.
Manta is a free small business directory and search engine geared toward providing networking information for business owners and others to utilize. Manta not only adds more 1,000 new business profiles each day, but they also provide important information including annual revenue, employee size, years established, etc.
A public or government funded agency or organization should simple to look up, and if you are looking into a larger company, they may have shareholders they report specific numbers to. The bottom line is to determine whether or not the company seems financially stable and isn't at risk for things like bankruptcy. You can also look up public records for many different businesses with Experian to find out even more specific information.
http://www.experian.com/small-business/business-public-records.jsp
Pull Salary Reports from Payscale
Just because a company has a lot of revenue, doesn't mean they will pay their employees a lot. Popular fast food chains are a common example of this. Revenue and debt research will probably be most effective if you are working for a small business or government-funded employer.
If you are in any other field, carefully review how the earnings of your desired position are portrayed over time. Glassdoor and Payscale are great resources to compare salaries and see how much you can earn in a particular field.
Certain jobs are low paying, while some others promote increased wages over time. For example, while administrative assistants can earn anywhere from $20,000 per year to $50,000 per year, if $50,000 is not enough to meet your needs and expenses, you may want to try a different field since only the most experienced administrative assistants can expect to earn that much. If the industry standard pay rate is not ideal for you, you may have a hard time convincing your employer to pay you more.
Advancing your skillset in your field of choice is also a good way to help you land a job with an employer that can pay you more. If you're in the nursing field working as a Certified Nurse Assistant (CNA) for example, you'll find that while even the most experienced CAN's can only expect to make an average of $15 per hour more or less, Registered Nurses (RNs) make at least double that starting out so you might want to obtain the educational and on-site job training to advance your career to earn more money either with the same employer or a new employer.
Go on Lots of Interviews and Ask the Right Questions
Going on interviews is not only a great way for employers to learn more about you and assess your capabilities, it's also a good opportunity for you to screen them as well. Your salary or pay rate is always the underlying reason as to why you are interested in any job and employers know this.
While it's great to work in a pleasant environment for someone with values and a mission you support, at the end of the day you need to make ends meet and put food on the table. While it's considered bad etiquette to flat out ask how much money you'll be earning during a job interview, you can ask other questions to help you determine your earning potential.
Be sure ask if there is room for growth within the company. Explain your career goals and see if they offer promotions to other parts of the company or within the department you are interested. If there is room for growth and promotions, that means they can afford to give timely raises.
You can also ask how often they do reviews to assess your progress. Most employers will at least do an annual review in which you can negotiate a raise. If the employer doesn't do an annual review, that can serve as a red flag implying that there is no set system in place to help employees advance within the company based on their performance.
Take Your Time
When searching for a job, it's common to feel somewhat rushed and anxious. If you are looking for a long-term stable job with plenty of opportunity for growth, you'll need to slow down and do your research.
Utilize all the tools mentioned above to check out potential employers, compare salary trends, and even read through past employee reviews and ask others in your job field for advice and feedback.
Have you ever worked for an employer who couldn't afford to give you a raise? How often do you ask or receive pay increases?