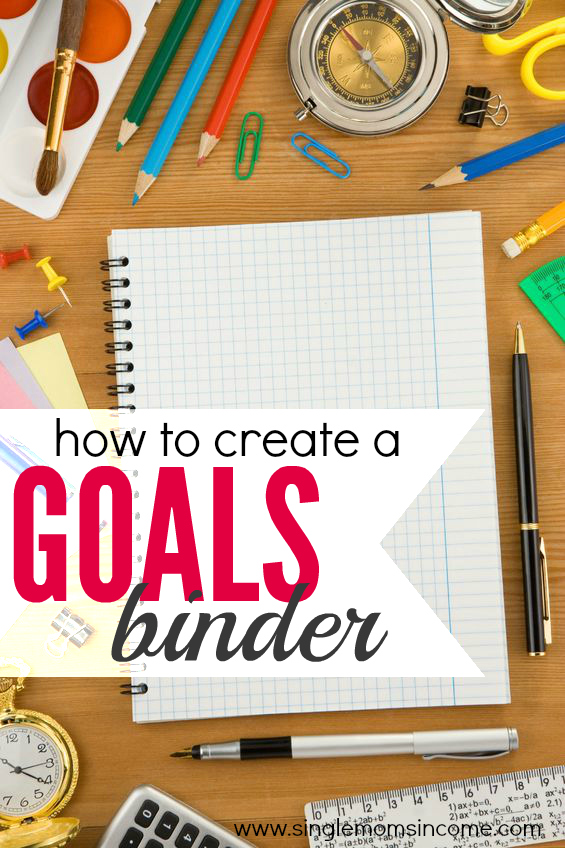 Do you ever have trouble focusing on one task long enough to finish it? Do you feel like if you could just finish the projects you started that you'd be a lot better off?
If so, you and I are a lot alike!
I'm an idea person which is a blessing and a curse. My mind never stops coming up with new business ideas. Some nights I lay in bed just thinking of all the different things I want to do over the next several months.
When an idea sits in my head too long I start working on it. Then another great idea takes over and I quit working on my last idea. I rarely work on one thing long enough to see any results.
I can't even tell you how many websites I've started over the past year and then did nothing with. I've lost count. (You've seen me do this a couple times here and here.)
Clearly, I could be a lot more successful than I am now if I could just focus.
So I decided to do something about it.
Why I Created a Business Goals Binder
Knowing that my problem was focus I needed a way to fix it. A place where I could logically organize my ideas, draw plans, and find inspiration.
That's why I decided to make a goals binder.
Although my binder is geared toward business goals (which is my focus trouble spot) you can use the same technique for virtually any goal.
Here's how I put it together.
How I Did It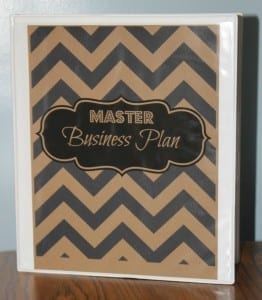 Over the past week I've been writing down all of my ideas. And more importantly I've been writing down WHY I want to pursue those ideas.
And I recommend you do the same.
When you take the time to really think of why you're working toward something you'll quickly be able to recognize whether or not your idea is actually a good one.
After I had my goals narrowed down and my "why" figured out I put my binder together.
Here's a layout of how my pages go: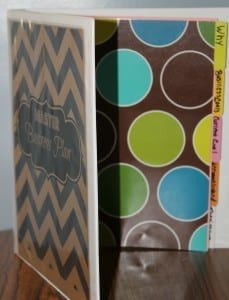 Tab 1, My WHY – After looking through all of the ideas that I had been writing down I could quickly scan through them. I asked myself why I wanted to work on that idea. If I couldn't come up with a good reason, that idea was quickly marked off the list.
Once I had the goals that really mattered narrowed down to a list of five I made my list of "why." I had four solid reasons for why I was doing what I was doing.
Now I can begin my day by reading through my why list, which will be an instant motivator.
Tab 2, Business Plans – For my business plans I created 5 goals that I wanted to accomplish over the next 12 months. I then listed these goals in order of convenience.
To me convenience is simply listing the goals in the order that they make the most sense.
For instance, is there one goal that if I completed, would make the rest of the goals easier to accomplish? For me there was one clear goal that would help me accomplish the rest of my goals so this is my starting point.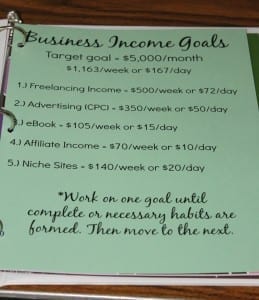 I should also note that I attached an income amount to each of these goals. I broke the income goals into weekly and daily amounts to make my goals feel more achievable.
Once I reach the income amount I can then move onto the next goal.
Tab 3, Current Goal – Since I had pinpointed which goal I'd first be working on I took that and broke it into five tasks I should be consistently doing in order to accomplish that goal.
I also made a weekly to-do list to make sure I was hitting all of those points.
I knew if I broke down each of my five big goals that I'd be tempted to work on all of them. So right now I just broke down the first so I can attack it with some focus!
Tab 3, Accomplished Goals – When a goal is accomplished it will move into this tab and a new goal will go into the "current tab."
I thought this would be a nice way to look at my progress.
Tab 4, Inspiration – My last tab is for inspiration.
In here I'm working on putting some of my favorite quotes, as well as pictures (maybe the foreclosure), and anything else that I can look at to draw inspiration.
This will be sort of a vision board.
Inside Folder, Ideas Spot – I told you I have a million and one ideas. It's just not something that I can turn on and off whether I want to or not.
So I have a folder in the back of the binder where I can put my ideas. (It's already got some in it 😉 ) This way I can review my ideas later. This is also a great way of getting something out of your head.
Back Cover – On the back cover I have a few of my favorite quotes so that I can quickly look at them for added motivation.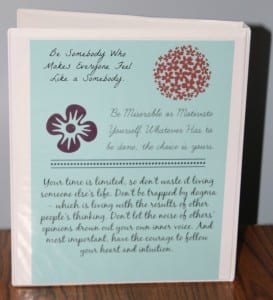 One of my favorites:
"Your time is limited, so don't waste it living someone else's life. Don't be trapped by dogma – which is living with the results of other people's thinking. Don't let the noise of others' opinions drown out your own inner voice. And most important, have the courage to follow your heart and intuition."

Steve Jobs
Final Thoughts
This binder is meant to be my reminder and motivation to focus on one thing at a time.
The plan is to take it out and read through it at the beginning of each day before I start working. For anybody else who has trouble focusing I encourage you to give this a try.
It's a wonderful way to organize a sea full of ideas.
How do you stay focused on your goals?