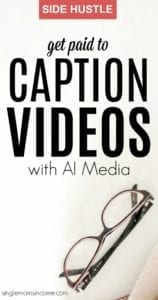 Are you an accurate typer looking for a flexible side hustle? If so, captioning with AI media may be a good fit.
AI Media is looking for freelancers to transcribe and caption videos from TV, YouTube, Facebook, and more. The best part is you can set your own schedule and work when you want to. Want to make it a full-time job and work 9-5? As long as there are available jobs you can do that. Just want to make a few extra bucks by working a couple of hours a week? You can do that too.
Working with AI Media
There are two types of captioning projects you can apply for, closed captioning (pre-recorded videos) and live captioning (live events where captions are needed in real time). Both are on a freelance basis, allowing you work when you choose.
Technical Requirements
You only need three things to work as a captioner:
A computer that runs on Windows. If you have a Mac, you can install Windows.
A strong, reliable internet connection
Chrome Browser
You may also like to have a distraction-free work area to help you concentrate, allowing you work faster. Since you are paid by video hour, not the amount of time it takes you to transcribe and caption it, the faster you work, the more you'll make.
The Application Process
To apply you will first need to pass a multiple-choice test with questions on punctuation, grammar, spelling, and captioning standards. You will only have 10 minutes to finish this test and you won't be able to stop it once you start. You will have an opportunity to review and edit your answers, but once you submit you will not be able to take it again.
If you pass, you will be asked to caption a video using AI Media's online captioning software. Your work will be checked and graded within 5 business days. You will be notified if you passed and are hired, or if you failed and are not hired.
If you are hired, you will be directed to the tutorial section before you will be able to claim any jobs.
How Much Does AI Media Pay?
AI Media pays well, $27-$42 per video hour. (Note: keep in mind, this is the time of the video itself, not how long you work on the captioning.)
AI Media pays you for your work every two weeks via PayPal so you will need to have a verified PayPal account. As a freelancer, you will be required to complete a W-9 if you earn over $600 and you will receive a 1099 form.
To learn more and apply, visit AI Media's website to get your questions answered and submit your application.
Related Work from Home Jobs
If you're looking for similar work here are some places to check out:
Rev.com Captioning and Transcription – Rev.com also hires freelance captioners. The pay is $0.40 to $0.70 per audio minute for transcribers and captioners. They also have a work when you want type of model.
10 Flexible, Part Time Work from Home Jobs – If you're looking for some different ideas on part time work from home jobs this post can give you an idea of what's available.
5 Companies that Hire for Data Entry – If you like the idea of captioning you may also like data entry type work. (Keep in mind these types of jobs are on the lower end of the pay scale.)
P.S. I also recommend checking out the Work from Home Summit. This is, hands-down, the best work from home event I've come across. You'll get access to videos from real people who have built their own work from home careers in many different niches. And it's 100% free. You can access it here.