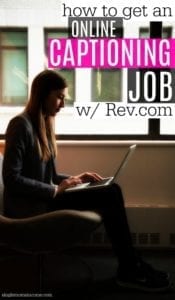 If you're a good typist and like making your own hours, Rev might just be the work-from-home opportunity you've been looking for.
Rev provides contract work for transcription, captioning, subtitling, and translating with the ability to choose your own projects. You have the option to work full-time or part-time, or a combination of both depending on your availability. All you need is a computer and an internet connection to get to work. And best of all, you'll get paid weekly via PayPal.
Working with Rev
Getting started is easy, just visit their website, choose the position you're interested in, and apply. You'll then need to take their online grammar and transcription test. Within 48 hours they'll let you know if you're an approved freelancer. Once you're approved, simply choose the projects you like from the list of available jobs.
There are only two requirements for accepting jobs once you're approved. You must have:
 A computer. (Laptop or desktop are both fine.)
A reliable internet connection.
And, if you don't already have one, you'll need to create a PayPal account so that you can get paid.
That's it! Each job posting will tell you the rate you'll be paid, the number of speakers you'll need to identify in your transcription, and the turnaround time, along with any other pertinent information.
Some jobs, like translation, will require additional skills. You'll need to be fluent in another language in order to apply for these positions.
Rev works with a variety of reputable companies like Comcast, Dropbox, PBS, Princeton University, Google, US Bank, and BuzzFeed just to name a few.
How Much Money Can You Make with Rev.com?
The pay varies based on the job you choose. Some jobs pay by the minute, others by the word. Transcription and captioning average $0.40 – $0.70 per minute, subtitlers average $5 – $8 per minute, and translators are paid $0.05 – $0.07 per word.
The average Rev contractor makes about $245 a month, but the top monthly earning is currently almost $1500.
Your pay will be based on the job you select, completing the work on time, and how often you'd like to work.
To get paid, simply follow the job instructions, and complete the work on time. You'll be paid for that work the following Monday via PayPal. There's no waiting. If you complete a job on Friday, you will be paid on Monday.
To apply, visit the Rev website, click "apply now" next to the job you're interested in and take the online test. Once you're approved, log in and select a project then get to work. You can get paid as early as next week.
Related Work from Home Jobs: