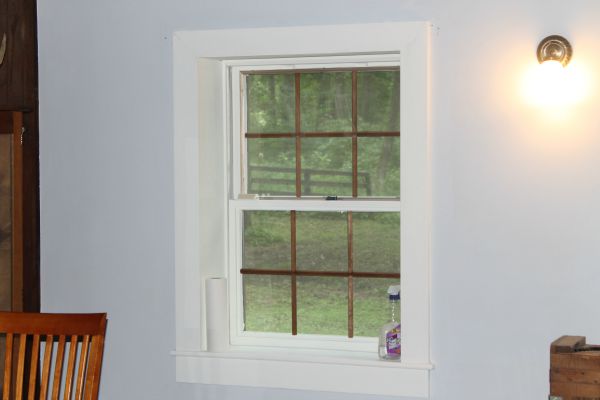 Aside from blogging and personal finance one of my absolute favorite hobbies is DIY and organizing. Well actually, pretty much anything home related. Houses make me happy. Making ugly rooms pretty makes me even happier.
And one huge benefit of having a neat, organized home is that it will actually save you money! I promise you, a cluttered house can lead to overspending in so many ways. Plus, it costs you time. And we all know is time is money.
Being organized can save you money in the following ways:
You know what you have and therefore don't buy more.
When everything has a home and is all nice and neat you'll use your stuff more.
Having a clean, organized house is relaxing. You'll want to spend more time in your home rather going out and going shopping.
I personally work much more efficiently when my surroundings are nice and neat. (Makes me money!)
Plus, having an unorganized house can just be a major source of stress which isn't good for anyone!
Since I've now been in this house over a month I have a sense of where I'd like my stuff to belong which means I need to do some rearranging and organizing. In addition there are some small, inexpensive updates I'd like to do to certain rooms to make them feel more like "home." (Mostly just painting.)
Since I'm going to be spending a good chunk of time going through my house in the following months I thought I might as well just bring you a long with me and share the process on my blog.
I'm starting with the living room.
The Living Room Before
The living room was one room that was in desperate need of a paint job. The green trim drove me crazy and the walls were very dingy and dirty.
Here are a couple of before shots: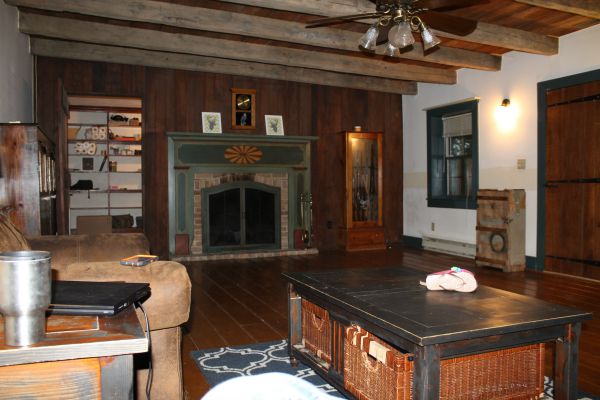 There's a lot of beauty in this room but the walls made it feel so dingy. Plus, since the house is surrounded by trees all the rooms stay pretty dark. I wanted to lighten and brighten it up a bit.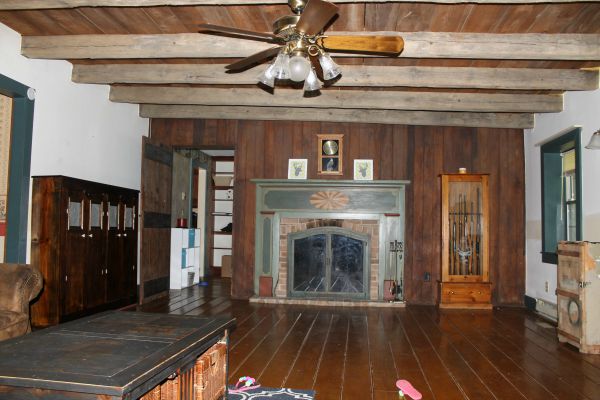 The Living Room To-Do List
The living room is big and I actually have more storage in this area than what I really need. My goals for the living room were to:
Paint the walls and trim
Clean the Windows
Hang mirrors and pictures on the wall
Organize kid books
Organize the downstairs toys
Organize Other Miscellaneous Items and Drawers
I started by giving the living room a fresh coat of paint. All in all I spent about 14.5 hours on the trim. It took four coats of paint to cover up the hunter green! An additional six hours were spent painting the walls. The beams make for a whole lot of cutting in!
To be honest, both the wall color and trim color didn't turn out how I imagined. I like it but not necessarily for this room. I will probably repaint in the future but for now this is much better than the original!
Gettin' Busy
The girls I spent about two hours going through and organizing all living room paraphernalia. The biggest problem was definitely craft supplies, old coloring books pages, and tiny little cut up pieces of papers that seemed to take over every drawer.
We first went through everything and threw away all old papers and useless craft supplies. We then grabbed a few containers and sorted everything. Crayons went in the box with the green lid (that container was actually an old dishwasher detergent container that I covered in contact paper – it is perfect for crayons and markers!) extra pens and pencils went in an old pencil box, and craft supplies (like scissors, stickers, and glue) went into a cheapie $1 container.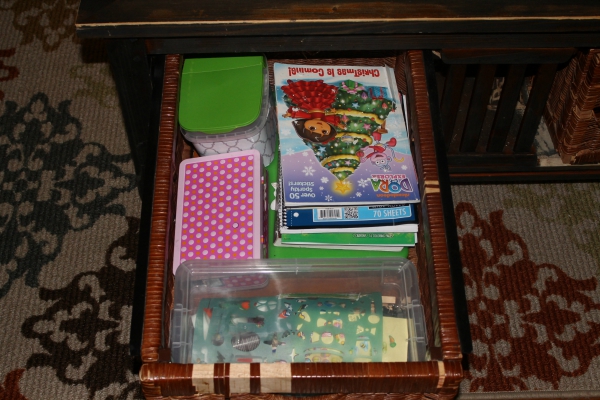 The books were easy. We just put all of the books we're working on right now in an empty drawer in the TV stand and put everything else back on the bookshelf in the extra room.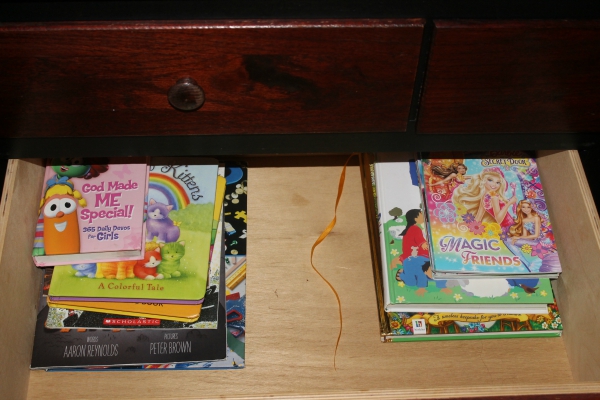 There are a couple other drawers in the TV stand that are in use. One contains all our DVDs, one contains board games and puzzles, and the last is used for extra lighting in case of a power outage.
The last time the electric went out in the old house I couldn't find the candles or flashlights that worked anywhere. We wandered around in the dark for an hour before finding them. And since Jamie snow plows for the State in the winter it means the girls and I are on our own.
Since we're now in the middle of the woods, on our own electric line with that line running through trees I predict we'll be without power at least a few times this winter. I wanted to be proactive this time so I dug up all the old candles, push lights, and flashlights. I also put some back up batteries in the drawer.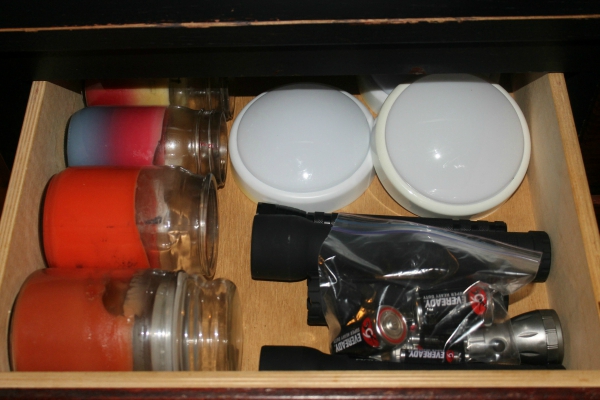 Next came toys. The only toys that my girls play with end up downstairs. (Barbies, ponies, and horses.) I was going to use the second drawer in the coffee table for easy pick up but Ava really wanted her stash on the other side of the couch. It's mostly out of sight so I was fine with that.
We put the Barbies in another cheapie container, the ponies in a bag, and just stacked the large stuff in the corner.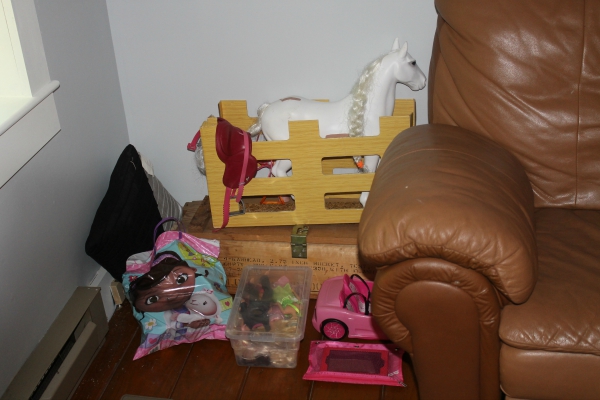 If we keep the toys there I think I may eventually want to put a bin or bucket there.
Last but not least came my office space. You see, my office is my recliner and the table beside it 🙂
I cleaned out all the junk papers that had piled up in my drawer and filled it back up with my project planning notebook and two planners. Much better!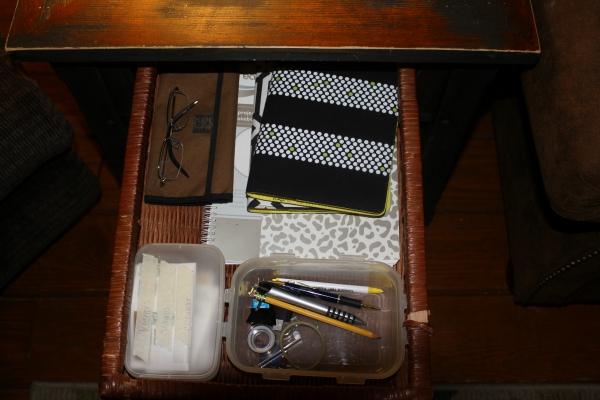 Other changes I made in the living room were just swapping out the rug and the lamps from the master bedroom.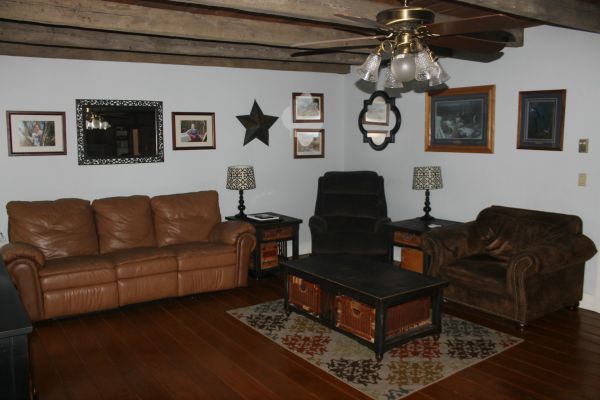 Now everything is nice, neat, and organized. I should be able to easily keep these systems up even if I only spend an hour per month re-sorting. Plus I have tons of empty organizing space in here. If anything else needs to make its way into the living room I've got it covered.
Next on my list is the girls rooms. We've already done some basic organizing since it's back to school time. The biggest tasks is going to be painting. Both rooms have three windows and all I can think about is how darn long it's going to take me to paint that trim. Ahhhh!