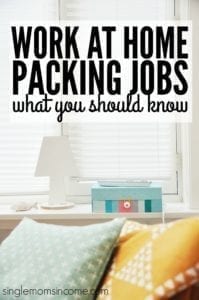 If you've been thinking of taking a work from home job it's likely that packing jobs have popped into your head. Believe it or not, this is the type of work most people start looking for.
There's a couple reasons that packing jobs are in high demand 1) they're promised to be easy work and 2) they've been advertised in newspapers and online for as long as I can possibly remember. I even had a couple of friends in high school try to give this type of "work" a go.
But like most things in life that are too good to be true, there's a problem with these jobs. Most work from home packing gigs can be fit into one of these four categories.
Chain Letter Scams
Many looking for work from packing jobs start looking into stuffing envelopes. There's normally a fee to get started with a promise that you'll be told what to do next.
After paying a fee you're sent instructions to send a letter out to people telling them how they can earn money stuffing envelopes at home. If interested they then send you a fee and you then instruct them to send letters to people.
Sound confusing? It is.  There's no product at all and you're not actually stuffing envelopes for a company. This is very similar to posting links online scam.
Sending Stolen Goods
Another work at home packing job scam comes in the form of shipping stolen goods. In this instance you will actually be sent physical goods with reshipping labels and instructed to pack and ship internationally. While you most likely will get paid there's a major catch.
The goods you're shipping have been purchased with stolen credit cards and your "employer" is using your home as a way to avoid getting caught…
Paying for "Directories"
If you've searched for work from home packing jobs I'm positive that the first few sites you've come across have wanted you to pay $30-$50 for a directory.
This directory is nothing more than a list of work from home opportunities you could find yourself for free.
Impossible Standards

The last type of job in this area is more legit than the rest but most likely won't produce you any profits.
Many companies who advertise work at home assembly or packing jobs will charge you a fee for a startup kit and then you'll be instructed to either assemble or specifically package their products.
After assembly you'll have to send the products in for the company to inspect. The problem is that you'll never meet the company's expectations and will instead just be out of the money for the startup kit.
You can check out this post for more on work at home assembly jobs and how to avoid scams.
These Companies Prey on People Desperate For Work
As I researched many of the popular work at home packing companies I noticed a theme: people desperate for jobs were getting ripped off by these companies. Senior citizens on a fixed monthly income, disabled women looking to work at home and those who have not been able to obtain employment locally.
So please, if you're looking at work at home packing jobs look somewhere else. While there may occasionally be a legit one to pop up the chances are slim.
What to Do Instead
If you want to work from home there are many ways you can do so. The most important thing to remember is that if sounds too good to be true, it is! There are easy ways to earn working from home but they will NOT provide you a livable income.
Here are some of the easier, legit ways to make a little extra money. (Remember, these will not come close to a full time or even part time income. I use these types of sites to pay for Christmas.)
Swagbucks – Swagbucks is a search engine that randomly awards you points called SBs when you use it. You can also earn points for playing games, watching videos, and taking surveys. You can get a $25 Amazon gift card for 2200 points. (You can also cash out for Paypal cash and numerous other gift cards.) You'll get a $5 bonus for signing up if you earn 2,500 points in the first 60 days.
InboxDollars – InboxDollars is pretty similar to Swagbucks in the fact that you can earn money through their search engine, surveys, and more. They also have a feature where they'll send you emails  that have an advertisement in them and you click a button confirming you've "read" the email for additional money. You need $30 to cash out and they send your money via a check. (You'll get your first $5 just for signing up.)
NCP – National Consumer Panel is a company owned by the Nielsen group that rewards you for scanning your purchases each week. When you sign up you'll download a scanner to your smartphone (you also may be sent one.) Then each week you'll scan your purchases, enter the prices, and submit that data. You'll be awarded points you can accumulate and cash in for prizes for doing so.
Survey Sites Opinion Outpost and Toluna – If you're interested in taking surveys these two sites are both legit. However, it's important to note that the number of surveys available to complete varies from person to person.
Now that you're probably more keen to try on this packing job at home after reading this article, remember to request for the monthly pay stubs from this company you work for later on. These pay stubs come in handy when you need to provide proof of income in the future. But if for some reason, they can't provide one, you can always rely on this best paystub generator in the country. Best of luck with the job search!
If you're looking to pull in a full-time income from home here's a list of jobs. Be aware it will take time and hard work to find a good online job just as it takes time and hard work to find a solid day job.
Perform your due diligence, check with the BBB website and read many online reviews before forking over any money to a work from home company.