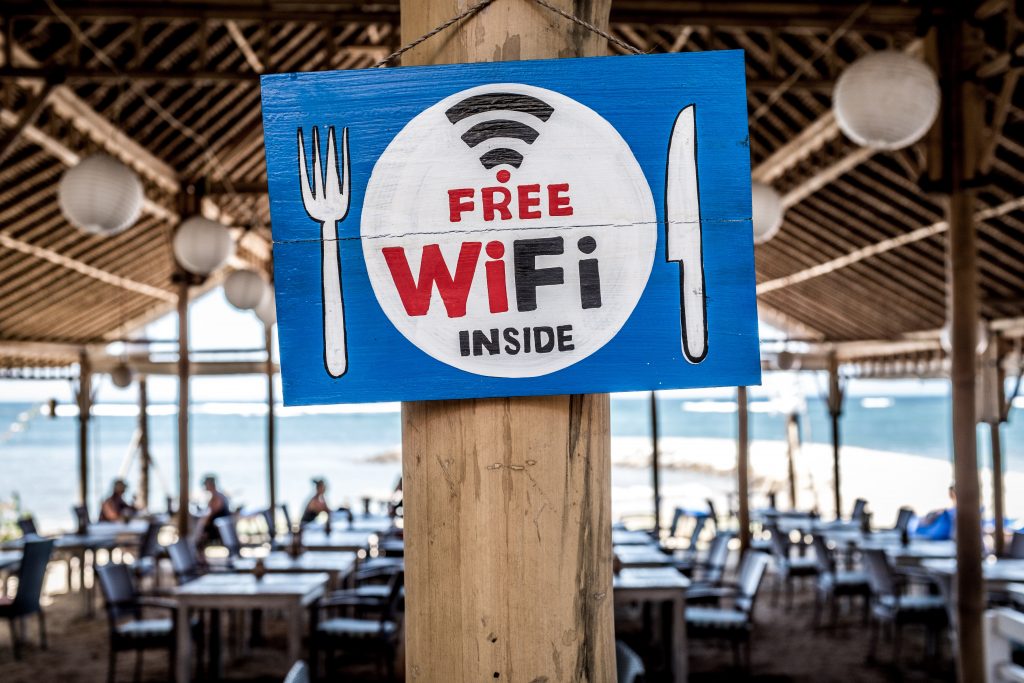 There are many businesses that offer free WiFi for paying guests. Sometimes I'm in need of searching for something online or just need to check my emails. For such little usage of the web, I don't feel the need to pay for internet services. Most chain businesses can be found in many neighborhoods and offer free WiFi service to their customers. In addition, If your wondering where to find free WiFi here are some of our suggestions.
Popular chains where you can find free WIFI
Many of us search for hotspot services, however, these can be very costly and cell phone companies make a fortune out of these services. There's no need to purchase hotspot services when you can get online for free at these popular chains.
McDonald's
McDonald's is located in about every neighborhood going. Being one of the most popular chains there are over 11,500 locations that offer free WIFI to their customers. They also offer downloads speeds that are faster than any other national chains.
Although many of us question the food offered at McDonald's, they do in my opinion offer great hot coffee and many other sundries such as ice-cream and sodas. The layout of their restaurants the same you'll always find a quiet corner where you can hide out in. To find out if the Mcdonald's in your neighborhood offers free WIFI check out their restaurant locator.
Dunkin' Donuts
You may have noticed that this is one of America's most popular chains. However, you may not know that with your scrumptious donuts and freshly brewed coffee comes free WIFI. In addition, Dunkin' Donuts offers free WIFI in thousands of their locations to find a location near you check out their store locator.
Starbucks
This popular coffee giant has the ability to offer Free WIFI to 7,000 locations around the country due to its recent partnership with Google. Due to the popularity of this coffee chain finding a Starbucks in your area should be easy. However, you may feel the need to spend $5 on a latte or a cappachino but remember just because your using the free WIFI doesn't mean you need to spend a lot. You can stick to the basics and grab yourself a tall cup of coffee for $2 and surf the net for free.
Buffalo Wild Wings
Buffalo wild wings offer free WIFI services in many of its locations. With a reasonable happy hour available it's a great way to surf the net and enjoy some signature wings. If you've been looking to cut your cable costs but hesitant due to your love of sports buffalo wild wings offers screenings of all major sporting games as well as paper view events.
Panera Bread
The food prices at Panera bread are reasonable for the quality of food you receive. It's a great place to spot off in the morning to grab a bite to eat. Most Panera locations offer free WIFI to customers around the United States. You can search for WIFI locations on their website.
Note: During rush hour WIFI access is limited to 30 mins per customer. If you're looking for extended online access avoid peek times.
Whole Foods
This organic food store offers free reliable WIFI for its customers. Many locations offer cafes or dining areas where you can get hot foods and teas and coffees. However, you may think this organic food store is expensive for grocery shopping it actually offers items that are cheaper than your local grocery store.
Read: 16 Smart Ways To Save Money On Groceries
Apple Store
In many upmarket malls, you'll find an Apple Store. You may not be able to access the store without an appointment or for long if your browsing, however, if you sit outside the store you tend to get access. They tend not to notice inside the store as they are normally overloaded with customers.
In addition other cell phone or computer orientated stores offer WiFi service to demonstrate and test products and services to their customers. Many malls that have food courts will also offer WIFI to their customers so keep a look out.
Target
Although this is not the ideal location to browse the web for extended periods of time you can save on mobile data while shopping and even send a few emails if needed.
Many locations offer cafes where you can spend time browsing the web and restrain from overspending. check out stores near you to see if they offer cafe services.
Best Buy
Even though you won't spend hours browsing the web here you can send off a quick email or browse the web for short periods of time. Just like McDonald's Best Buys download speeds are amongst the fastest of the big chains and even tested by Opensignal.
The great thing about Best Buy is that you don't even need to have a computer or smart phone on you. Just pop into a store and use their latest gadgets to surf the net for free!.
Barnes and Noble
You'll notice that many Barnes and Noble locations have Starbucks cafes offering free WIFI. Each store varies by location and some stores may not even have open WIFI. In addition, if you find a quiet corner to sit by the cafe you can enjoy free WIFI without having to spend a dime.
Alternative places to find free WIFI
It's much easier to look for big chains for free WIFI access as they tend to be the best options. However, you may find yourself in a location where these are not available. Here are alternative WIFI options
Trains and buses
There are many train and bus companies that offer free WIFI for customers. Megabus, Boltbus, and Amtrak are amongst many transportation companies that offer WIFI connections. When you choose to ride with these companies for business or leisure be sure to book early and you may even be able to grab yourself a $1 Ride!.
Hospitals
If you ever find yourself spending time at the hospital for any reason, you'll be happy to know that they offer free WIFI for patients and guests. This of course would not be the most ideal location to access WIFI, however it give you a piece of mind that you have access.
Airports
You may find that some Airports will charge you to use their WIFI services. However, if you're traveling through one of these Airports you'll be able to kill time waiting for your flight browsing the web.
Museums
Many top museums will offer free WiFi services to their guests. You however may not be visiting a museum for the WIFI services in the first place but you may need to check a map if your touring the city or even send a quick email which the WIFI series will be great for.
Public Parks
Many cities are now introducing free WIFI in their public parks. This is great if you enjoy working outside or going for a stroll in your lunch hour and need to send an email. To find parks in your local area search here.
Read: 30 Free Activities For Kids.
WIFI Safety
It's great to have free public WIFI on the go but beware there not always safe to use. Sharing open networks with millions of other people can put your personal information at risk. If you follow the below precautions you can protect yourself and your information:
Use HTTPS websites as much as possible: HTTPS sites are secure sites that protect your information from being accessed. Sites such as Facebook will automatically convert URLs to secure sites, however it's best to keep an eye on the link to make sure this has been done. If you use a chrome book or chrome browser you can install an extension that will make your browser safer by encrypting your data.
Don't enter personal information: It's best you do your banking and online shopping to stop exposing yourself to identity and credit card fraud. Many public WIFI users have become subject to this type of fraud recently.
Enable two-factor authentication: Many frequently used sites such as email companies have set up two-factor authentication to protect you further. By adding your cell phone number to a password-protected site you'll protect yourself from further hacking. You'll also know if anyone has tried to hack your account as you'll receive a message to verify you've logged on.
Forget the network: In your settings, it's best to uncheck 'remember this network', by doing so your phone or computer won't automatically connect to the network when you're in range. If your device automatically connects to public networks your personal information will be exposed while you're not browsing or even in range.
In Conclusion
It's great to have free WIFI when your out and about. there are many things to remember when joining these networks that can actually lead to you spending more such as:
Find a cafe in big stores such as Target to avoid overspending while browsing the web.
Take Online security seriously to avoid identity thrift.
In big coffee chains or restaurants don't feel the need to purchase the most expensive items.
Never give your card details when joining a free WIFI service as they can charge you once your time limit is up.
Avoid using hotspots and look for free WIFI outlets.