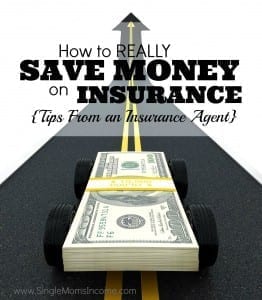 Do you want to save money on insurance but are confused by the conflicting information you read? If so, let me help!
I have been an insurance agent for a little over a year now. I promise you, I know personal lines insurance like the back of my hand. 
So I'm here to tell you – saving money on personal lines insurance is not about bundling or lowering your coverage.  If you are looking to lower your insurance premium, these are the things you really need to know.
The Three Most Important Determining Factors
There are several factors that weigh your insurance premium, but compared to these three, everything else is honestly minuscule. Yes, there are discounts you can qualify for, but they are peanuts if these first three factors aren't in good standing.
#1 *MOST IMPORTANT* Your Credit Score
I have literally seen insurance premiums double for people with bad credit versus someone with good credit for the same car and coverage's. I'm not even kidding!
In November of 2012 I did a homeowners quote for a couple with a good credit score. The yearly premium was $990. They hesitated on switching their insurance and requested to have it switched this past month. I had to go in to the system and re-quote their home. Their credit score had dropped nearly 100 points!! Guess what their new homeowners quote was? $1810!! Same exact coverage's, much lower insurance score.
Needless to say, they didn't switch their insurance.
Credit scores apply to all personal lines insurance: auto, home, boat, RV, motorcycle, four wheeler, etc.
If your credit score is bad, you are going to pay a much, much higher rate than that of someone with a good credit score. Is this fair? No, not really, but it's a fact.
(You can check your credit score for free with Credit Sesame
)
#2 Claims History
Word of warning. If you have minimal damage to your home or auto and you can afford to pay for it out of pocket, do it. (If you have a large claim, by all means file it with your insurance company.) Let's say for example you have done $800 worth of damage to your vehicle and have a $500 deductible. This means your insurance company will cut you a check for $300. Sounds nice, right?
What will happen is when your policy renews your premium will go up because you now have a claim on your record. The claims counts the same whether the company paid you $50 or $50,000. A claim is a claim. The $300 you got to repair your car is now likely going to be added to your insurance premium at renewal, if not much, much more.
Do not file small claims if you are financially able to do so. The insurance company will look at all of your claims for the past five years and surcharge you for any made in the past three.
Interesting Fact: Buying a new home? Most companies will surcharge you if any claims were made on the home within the past three years. (Claims made by the former homeowner) When looking at buying houses I would *highly* encourage you to check the price of homeowners insurance. If the previous owners made a bunch of claims, you could pay a shockingly high price!
#3 Driving Record (Auto Insurance)
The number 3 determining factor applies to auto insurance and it's your driving record. Just likes claims, insurance companies look at your driving record for the past five years and surcharge you for any violations made in the past three.
If you have a lead foot your insurance premium will reflect that.
What You Can Do To Lower Your Premium
Being aware of how your premium is calculated is the best way to keep your premium low. Work on your credit score, only file claims when it's absolutely necessary, and avoid getting traffic tickets. If you can pass these three with flying colors you should have an awesomely low insurance rate.
Here's what else you should do:
Get quotes from multiple carriers at least ever three years. (Insurance rates go up every year if you stay with the same company. That's just the way insurance works.)

Realize, bundling is NOT always the best way to go. Different insurance companies specialize in different products. You could be losing a lot of money by automatically bundling insurance products without checking around on pricing.

If you have youthful drivers on your policy your insurance will be high. Encourage your kids to get good grades. The good student discount (combined with a spotless driving record) is usually the best way to keep insurance costs down for youthful drivers.

Make sure your insurance coverage's are not too low. Trust me, it is better to be over-insured than under-insured. You never know when disaster will strike.
Ready to see if you can save? Getting an online quote has never been easier. You can through a place like USInsuranceOnline.com where you can get multiple quotes from insurance companies or agents. Or you can through an individual carrier like Geico.com.

It only takes a few minutes to see if you can save some money on insurance. If getting an online quote intimidates you, view my tips here on getting an online insurance quote.