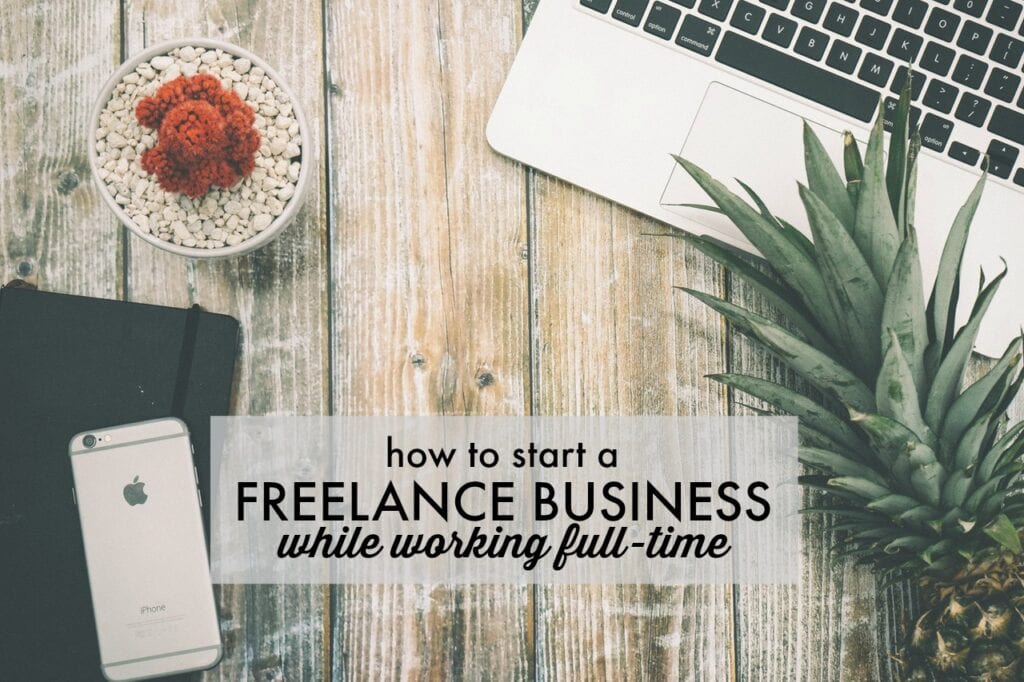 Most often I hear from Moms who are sick of their day jobs for one reason or another and are looking to go it on their own. But having a day job and taking care of kids and trying to start a freelance business can be pretty darn overwhelming. Trust me, I know.
When you're coming from a place of overwhelm it can be easy to throw in the towel before you get started. However, there is another way and if you really want it, it's 100% possible to build up a business big enough to quit your day job.
The solution though, is NOT to run out and quit your day job yet. (Please don't!) If you're feeling super busy but want to start some sort of business or break into a new career here's what to do.
Have a Specific Plan
Before you get started doing anything you need a plan. And this isn't just a small plan on how you're going to get clients. We need to cover ALL of the bases.
If your goal is to build up a business big enough to quit your job here's what I want you to figure out:
How much income you'll need on a monthly basis
How much you should save first. (You need at least six months' worth of savings if you're going from a day job to freelancing. No exceptions. I want you to be able to do something you enjoy but I do not want you to go bankrupt in the process.)
Exactly what you're going to do to earn money, how you'll get clients, how many clients you're going to need.
The first point is pretty easy to map out. Most people are going to want to replace their day job income or day job income minus any related expenses. The second point can be a little harder to reach but is absolutely worth it.
When Moms come to me many are wanting to quit their day jobs immediately. This is usually a terrible idea.
You shouldn't quit your day job until you've established a large enough monthly freelance income to live on plus at least six months' worth of savings. If you're in debt you might consider upping those savings a little more. When I was transitioning into freelancing I saved all of my freelance and blogging income in an emergency fund while using my day job money to pay the bills. This let me build up savings at a much faster rate.
The last plan you need is exactly how you're going to make money. If you're starting a freelancing business of any sort you're going to need to secure clients. (Here's the process I used.) Since you'll be working with a minimal amount of time it's important that you know step-by-step what you need to do.
After you get clients you need to have a plan to ensure that you get the work done.
Use Your Nights
Yeah, I know it sucks. When I first started freelancing I was working 60+ hours per week at my day jobs and had very little time free time.
Fortunately, I was fueled by knowing there had to be a better way and knowing that I didn't want to work that many hours per week for the rest of my life. So what did I do? I added even more work hours to my plate and built up my freelance business when my then two and three year old daughters went to bed each night.
I don't advocate working all hours of the night but if you routinely watch a TV show or read a book after your kids hit the sack, it's time to rethink your routine. Sacrificing a couple hours each night to work on acquiring freelance clients will be worth it.
Carve out 1-2 hours each night and use that time to work on getting clients. After that use the time to complete your freelance work.
Take Advantage of Your Lunch Hour
When I was first starting out I always emailed prospective clients introducing myself. A small handful of those prospects would want to do a short phone interview. The only time during the day I had available for this was my lunch half hour.
I used my lunch break as needed to take phone calls and respond to emails.
If there's something that has to be done during normal work hours take advantage of your lunch break to cross the item off your list.
Stay Focused
If you stay focused and follow your plan it's completely possible for you to build up a freelance business while also working full time. Keep in mind that it could take several months and may require a couple of sleepless nights.
Building your side income while working full time isn't ideal but when you keep your focus you'll be amazed at how much progress you can make in only a couple hours per day.
Looking back  in a year from now you'll be so glad that you put in the work.
If you built up a freelance business while working full time I'd love to hear about the steps you took!