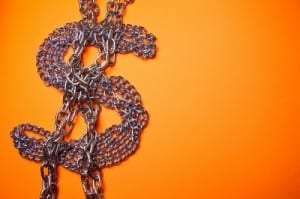 I think that we have covered the fact that being a single mother is HARD! It is hard in so many aspects, and in the beginning of single motherhood, finances take a big hit. A lot of us never imagined we would ever need anyone's help – most of us never imagined that we would wind up being single mothers.
So, should single moms apply for financial assistance? It depends on your circumstances.
As we pick up the pieces and start to rebuild our lives, there may come a time when we need financial assistance.
Should You Apply For Government Assistance?
Push your pride aside and examine your finances.
Are you behind on your bills?

Do you have health insurance?

Is there food in your kitchen cabinets?

Are you (temporarily) considered low income?
If you answered yes to any of these questions, applying for assistance may be your answer to getting back on your own feet. Don't look at it as a hand out, look at it as temporary help that you can pay forward.
"No one individual is responsible for his/her own success. We all receive help in some form of investment from others."
The reality is that you probably never imagined yourself being on assistance and you may have even once looked down on those who did receive it. Yes, there are some people who abuse the system, but there are also people who temporarily receive benefits to get their financial wheels back on track.
Types of Assistance You Can Receive
Food Stamps– Food stamps come in the form of a debit card. It is a discreet card that you simply swipe as you would a debit or credit card and then enter a pin number. You are given a monthly balance that will load on a certain date every month.
Daycare – There are programs that pay all or part of daycare expenses for low income earners.
Medical Card- If you are considered low income you may qualify for Medicaid. Medicaid is simply an insurance plan provided by the government. You do not pay anything for the medical coverage and there are no deductibles.
Even if you do not qualify yourself, your children without health insurance are likely to qualify for Medicaid.
Section 8 Housing – Section 8 housing is a government program that helps low income renters pay their rent. The amount of rent that you would have to pay would be based off of your income.
There is a plethora of government programs that can give you the boost you need to get your life straightened out. You will have to qualify for these programs based on your income and the income qualifications will vary by location.
Put all of your pride aside and decide what would be best for you and most importantly your children. If receiving temporary assistance would help free you from ball and chain finances (and stress) then by all means apply.
To apply for assistance visit your local Job and Family Services branch and speak to a caseworker. They will be able to tell you what you qualify for and all of the programs they have available.
Keep your head up. Things will get better!
Until Next Time……
You can go to the website calonmedical.com to get quality content on the treatment of erectile dysfunction and find out where to buy quality drugs.