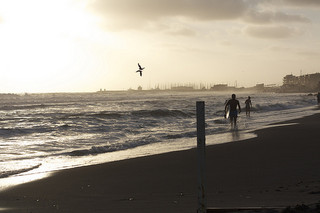 I am not even one year into single motherhood and although I have already experienced a wide range of emotions and frustrations, I know my journey has just begun. My number one goal is and always will be to look out for the best of interests of my daughters.
I'm not perfect, I'm not a super hero, and I know that I have already made many mistakes. But before I make any major decisions I try to think of my how it's going to affect my girls or what the best way to go about the change will be. Change isn't easy, especially to a two and four year old. But you can't erase the past and you can't change people. All you can do is move forward and be the best you can be.
Before I get too emotional and start crying through this post, in honor of Women's Money Week I want to talk about setting a good financial example as a single mom.
There Will Be Struggles
Through the comments and emails that I have received from other single mothers, I know how hard it is for a lot of single mothers to stand on their own two feet. I was fortunate enough to come out of my marriage without any debt and a little bit in savings. My expenses have been fairly low and up until now I have brought in enough money to meet those expenses without touching my savings. I've been kind of lucky.
I have not been a single mother for very long. One thing I am almost certain of is that I will have some sort of financial struggle at some point. Women still make less money than men do, and as single mothers we are relying on ourselves.
Struggles are a given. It's the way that we handle these struggles that will be the good example. Once again I haven't yet been in the position that some of you are in and I can only plan how I will react.
Not let the kids know if you're struggling financial

Save grown up talk for grown ups

Get an extra job

Scale back the budget in every way possible

Low cost, high fun, activities for the kids

Love and enjoy every second with the kids regardless of the financial situation
Planning Ahead & Making Budget Cuts
One of the smartest ways to avoid a financial struggle is to plan ahead – if at all possible. I never wanted to live in a trailer – although I don't mind it now, but I realized that I needed low cost housing. I also had my girls in mind when making this decision. I was not only financially protecting us but I was keeping them very close to their Grandpa and Uncles.
By incorporating short term sacrifices in your financial plan you can help free up some extra money and with time the sacrifice gets much easier. I still don't have cable TV, we just have our TV and DVD player. I had originally budgeted to get cable when me moved to the trailer but truth be told we have done just fine without it. The girls have enough DVD's to choose from. When they are ready for bed they get to pick one and watch it. It works.
Make a plan and cut back slowly if you are struggling financially. Several small budget cuts are a lot less noticeable than one large one.
No matter how stressed you are about money, don't let your kids know. Let them be kids – carefree, creative, and fun.  Talk in a positive tone about money. Show them the value in working and saving. Ultimately cherish and enjoy every moment with them.
How do you set a good financial example for your kids? Any single moms have tips or thoughts to share?
You can read more Womens Money Week posts on family and money here.